Mel Giedroyc will host an X-Factor style singing competition on BBC4 next month, in the first televised national song search for the Eurovision Song Contest in six years.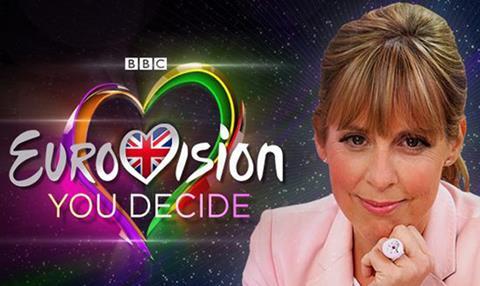 The 90-minute Eurovision show will feature performances by six acts battling to represent the UK at Eurovision 2016 in Sweden, as well as guests music acts and a look back at what makes a memorable Eurovision winner.
Eurovision: You Decide will be broadcast live from The O2 Forum Kentish Town on Friday 26 February and the winner will be selected by a public vote.
An expert panel will also be there to offer their thoughts on how the songs could be made to look and sound on stage in Stockholm.
The shortlisted acts and the panel of experts are yet to be confirmed, with the latter to be announced on The Ken Bruce Show on BBC Radio 2 on Friday 22 January.
BBC4 will also broadcast both semi-finals of the Eurovision Song Contest 2016 live from Stockholm on Tuesday 10 and Thursday 12 May. The grand final itself will be broadcast on BBC1 on Saturday 14 May 2016.
BBC4 editor Cassian Harrison said: "BBC4 is the home of music on TV in the UK, and as any fan will tell you, Eurovision is one of the biggest music events on the planet and is much more than just one night of TV, therefore it is only right that BBC4 is able to showcase Europe's favourite music TV event right here in the UK."
The show is executive produced by social events editor Guy Freeman and produced by Helen Riddell.