Ahead of this year's general election, Sky News set itself a task: engage young people in politics via an interactive app and website.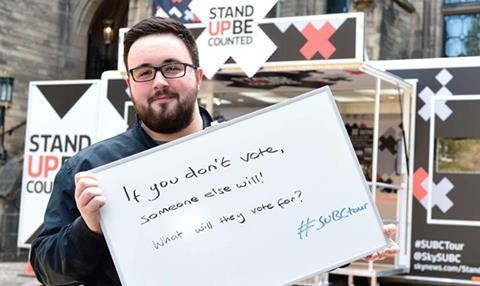 The result, Stand Up Be Counted, was just that, a dedicated social network community designed to amplify the voices of 16-25 year-olds.
The central premise is that young people upload video of themselves articulating their views, either on a specific issue or a more general political perspective. The app initially targeted 500 'stand ups', but ultimately delivered almost 750 active contributors, an impressive figure given the nature of the subject and the challenge of prompting active engagement.
That is evidenced by the far higher usage figures, including nearly 90,000 unique users, and more than 35,000 followers across all social media channels.
Other content highlights included a 30-second YouTube clip of the education secretary refusing to answer a maths question, which was viewed 110,000 times .
The Stand Up Be Counted website was designed to work best on mobile, given its young demographic, but to be responsive so it looked just as good on a tablet or PC.
It invited users to take part in TV debates, Google Hangouts and Twitter Q&As, and even employed them to cover the main party conferences for Sky News.
The judges said the result was a truly fresh perspective that enhanced Sky News' general election coverage.
Shortlisted
4 Music Website
Greater understanding of trending content has allowed a rejig of the 4 Music website, with more landing pages for key shows and integration of social media, so that viewers can be engaged in real time. The result was a 16% uplift in page views and a 36% boost in session duration.
BBC Earth
BBC Earth impressively took the BBC's outstanding reputation for natural history into the digital space, making use of a vast back catalogue to offer "something amazing every day". It used smart marketing techniques to pique interest, not least generating 1.2 million unique visitors by asking: "Why do seals have sex with penguins?"
ComedyCentral.co.uk
Original digital commissions are at the heart of a website with genuine momentum in the comedy space. Shows like KSI Demolished and The Sidemen Experience generated 14 million page views. ComedyCentral. co.uk also carries US content and daily editorial content including news, listicles, quizzes and random fact generators.
ITV News App
The ITV newsroom has proved its digital credentials over the years, and the launch of the ITV News app took it a step further. It delivers local news to 72 different areas, enabling users to follow stories and receive alerts for their area. The figures are impressive: 4.5 pages and 2.5 minutes dwell time per session, with a 95% return rate.
Nick.co.uk
A stylish relaunch delivered a 56% increase in page views for Nick.co.uk against the same period last year. More emphasis on on-demand content and a better games experience complemented the innovative Code-It experience, which explores computer programming skills via favourite Nick characters.