The first television commission from writer Julie Bower, this school-based comedy won universal praise from our judges.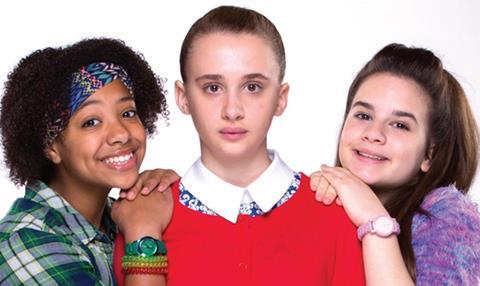 So Awkward
Channel X North for CBBC
The first television commission from writer Julie Bower, this school-based comedy won universal praise from our judges. The brief from CBBC and Australia's ABC was to deliver a smart comedy with a particular skew towards older girls, showing the appeal of science and academia rather than just the well-trodden path of relationships and growing up.
This was delivered with a lightness of touch and a slick filming style, including some imaginative and heightened pre-title sequences that impressed the judges. "It's really funny, smart and witty, with a real spark to it," said one.
They welcomed the show's appeal to a slightly older CBBC audience, with one comparing it favourably to BBC3 comedy series Some Girls. The themes and characters might be aimed squarely at the target CBBC audience, but the smart and sophisticated tone helped to notch it up a level.
Series like this can stand or fall by their casting and this mix of one newcomer and four more established performers played favourably with the judges.
"This fast, smart comedy for girls ticks a new box for CBBC," said one judge, while another declared: "It's great to see shows like this on the channel, which is really beginning to understand comedy for this age group."
Shortlisted
Eve
Leopard Drama for CBBC
Emma Reeves' visually striking sci-fi drama won praise for its strong female protagonist and rattling pace, and for action sequences and scary scenes from which other children's programmes might have shied away. A painstaking development, casting and visual effects process paid off with one of the most original dramas in CBBC's recent history.
Horrible Histories Special: Awesome Alfred The Great
Lion TV for CBBC
Viewers might have thought it was all over after series five's swansong, but the Horrible Histories team breathed new life into the format with a series of specials, each centred on one figure, and a broader international focus. A new cast was joined by a series of cameos from stars including Rowan Atkinson, Ben Miller and Jessica Ransom – and, here, Tom Rosenthal as Alfred The Great.
I Am Leo
Nine Lives Media for CBBC
Nine Lives proved that few subjects should be off-limits to CBBC with this sensitive and honest portrait of a transgender child. With unique access to a team at the Tavistock Clinic and plain speaking both from 13-year-old Leo and his mum, judges said this My Life documentary was a stunning example of the BBC at its best – making something nobody else would.
Mr Alzheimers And Me
Tigerlily Productions for CBBC
Another powerful film from CBBC's My Life strand contained "some really important and tough moments in a way that was quietly poetic", the judges declared. Themes of love and death permeated the piece, which featured many heart-rending moments between children and their grandparents, and touched on the loss of the elderly relatives' 'hero status' caused by Alzheimer's.
Punk Chef Kids Challenge
Flashing Lights Media for Community Channel
On a fraction of the budget of some of its rivals, this cookery show, encouraging deaf children to eat healthily and learn to cook together, was "refreshingly unproduced and well cast", according to the judges. One declared that a sequence in which a boy wanted to hold hands with a reluctant friend was "the best moment I saw in all of these shows".