'Insanely innovative and creative'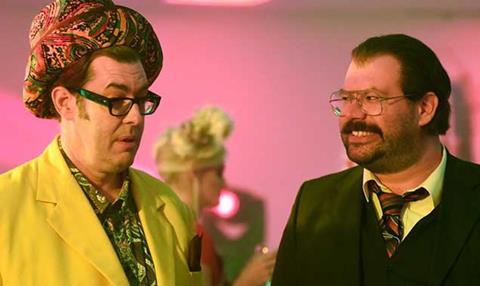 The second series of Tiger Aspect's cult semi-improvised hit continued to attract BBC Three's key target demographic of 16-34s, embodying the channel's brave spirit by mixing the fun of a sketch show with the drama of a murder mystery.
It built on the first series' success by bringing in fresh comedy talent and a raft of big names, including Vicki
Pattison, Emma Bunton and Chris Kamara.
New celebrity rookies were thrown into a fresh story each week and high production values were maintained, despite each episode being largely improvised and shot in only two days.
A host of celebrities popped up for cameos, including a memorable turn from Paul Whitehouse as Len Goodman. New writers also worked on expanding the world of Successville with more elaborate plots and
immersive experiences.
One judge called it "insanely innovative and creative", while another commended BBC Three for backing the
risky project, calling it "a brave commission that could have got it so wrong".
The show averaged 225,000 and hit a peak of 451,000, attracting 150,000 subsequent iPlayer requests on average in the month after release. It also picked up a strong social media following, trending in the top 10 on Twitter in the UK and reaching 1.3 million Facebook users a week.
SHORTLISTED
CELEBRITY JUICE
Talkback for ITV2
Celebrity Juice showed no sign of slowing down in its 17th series, with an average audience of 1.5 million (8.6%) in 2016 - four times ITV2's prime-time average share.
It also more than doubled ITV2's average timeslot share across several key demographics, with 16-34s up 130%.
LOVE ISLAND
ITV Studios and Motion Content Group for ITV2
The return of ITV Studios' reality show was a channel-defining success for ITV2, becoming the most-watched programme ever on ITV Hub, with 31% of overall viewing taking place via catch-up in the seven days post-TX.
Love Island was commissioned to attract a young audience and it did just that: 56% were aged 16-34.
RELEASE THE HOUNDS - FAMOUS & FREAKED
Primal Media for ITV2

The third series of Primal Media's horror entertainment format entertained a peak of 730,000 (2.6%) during its run on ITV2. The gameshow was filmed entirely outside from dawn to dusk and featured 21 new challenges.
Highlights included contestants getting trapped in a giant 'human aviary' and falling through a sandpit into a tomb beneath.
In Greg Davies and Alex Horne's unusual approach to physical gameshows, the hosts accepted bribes, rewarded dodgy tactics and haphazardly dished out points.
The Avalon format embodied the tone, character and voice of the Dave channel and became its biggest original show, with a series average of 708,000 (8.2%).
The second series of Avalon's sharp weekly satirical show, hosted by comedian Matt Forde, injected comedy into the heart of politics by featuring comedians and leading political figures, including Nicky Morgan and Tim Farron.
The five-part series picked up a consolidated average of 157,000 (1%) across its run.