Arctic crime drama Fortitude was Sky's biggest investment in original drama when it was ordered in 2013, with a budget of around £28m.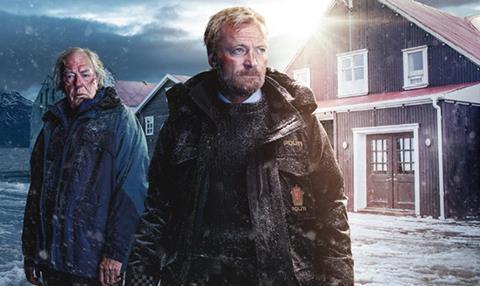 Sky Vision for Fifty Fathoms
Arctic crime drama Fortitude was Sky's biggest investment in original drama when it was ordered in 2013, with a budget of around £28m. Sky Vision, the company's fledgling international distribution division, helped the pay-TV broadcaster recoup a large portion of that by selling the 12 x 60-minute drama into more than 100 territories.
The company struck a major co-production deal with nascent US cable network Pivot after rival broadcaster Starz pulled out at the end of 2013.
It was also able to recoup its "eye-watering" investment in the thriller, which was created by Low Winter Sun's Simon Donald, through 10 pre-sale deals.
International broadcasters that picked up the drama, which follows sheriff Dan Anderssen as he investigates a murder, include France's Canal+, Australia's ABC and Canada's Superchannel.
The series, which stars Murder One's Stanley Tucci, Sofie Gråbøl, Christopher Eccleston and Michael Gambon, was also sold to broadcasters that do not generally buy British drama, including Greece's OTE, Israel's Yes and Iran's Manoto.
Additionally, the distributor sold the show to digital platforms including Telefonica in Spain. Fortitude recorded a consolidated audience of 1.2 million (4.8%), up 321% on Sky Atlantic's slot average, and has been renewed for a second series.
Shortlisted
Downton Abbey
NBC Universal International Television Distribution for Carnival Films
The ITV period drama continues to sell strongly around the world. The international sales division of Hollywood studio NBC Universal has closed 52 new deals and renewals for the show, which is in 250 territories, since September 2014. The fifth series also performed well for US public broadcaster PBS.
Homes by The Sea
Passion Distribution for True North
The lifestyle series, commissioned by More 4, has been sold to more than 140 territories by Dynamo sales firm Passion Distribution. A number of broadcasters, including the African Business Channel and Polish pay-TV network Domo+, immediately picked up the second series, in which Charlie Luxton tries to find the perfect coastal property.
Poldark
ITV Studios Global Entertainment for Mammoth Screen
The period drama, which has been sold to 153 territories, has been one of ITV Studios Global Entertainment's most successful dramas to date. The distributor has closed major deals in the US, with public broadcaster PBS; Australia, with ABC; and across Scandinavia, via digital streaming service Cirkus.
The Missing
All3Media International for New Pictures and Company Pictures
The BBC1 kidnap drama, produced by New Pictures and Company Pictures, has been sold into more than 170 territories across Europe, Asia and Africa. All3Media International also brought on major co-production partners, including French commercial broadcaster TF1 and US premium pay-TV channel Starz, ahead of TX.
Wolf Hall
BBC Worldwide for Company Pictures
The literary adaptation, which was BBC2's most successful drama since 2005, has been sold into 77 countries including Australia, France and China. The Damian Lewis-fronted drama, which is co-produced by PBS, has also been picked up by terrestrial broadcasters in Sweden (SVT), Denmark (DR) and Finland (YLE), as well as Arte in France and Germany