Not only was Car Share one of the standout comedy hits of 2015, it was also groundbreaking in many ways.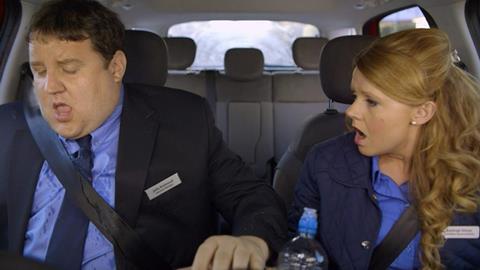 Car Share
Goodnight Vienna Productions for BBC One
Not only was Car Share one of the standout comedy hits of 2015, it was also groundbreaking in many ways. Two years in the making, the Goodnight Vienna Productions series was a labour of love for all involved.
Peter Kay directed, produced and starred in the BBC1 hit, developed by Tim Reid and Paul Coleman. It even got its own bespoke radio station, Forever FM, the third character to commuters John and Kayleigh (Sian Gibson), whose conversation is underscored and frequently interrupted by the DJs' inane patter and playlist.
Producer Gill Isles said the show "completely redesigned how a production is able to film in a car" by creating a bespoke HD camera and sound rig in a Fiat 500L. "This completely unique way of filming from within the car was crucial to enable the audience to feel that they were part of John and Kayleigh's journey to work."
Kay insisted that the full series be made available online before TX on BBC1. It became the corporation's most successful series to premiere as a box set to date, amassing 2.8 million requests on iPlayer ahead of a linear transmission watched by nearly 6 million viewers.
"This is digital pioneering created by the two funniest commuters in the north-west," said one judge. Another added: "The show leaves the viewer with a genuinely warm feeling, plus the technical achievement is groundbreaking."
Kay has hinted that the series will return.
Shortlisted
Ballot Monkeys
Hat Trick Productions for Channel 4
Andy Hamilton and Guy Jenkin's political satire was a successful experiment in fastturnaround scripted comedy. Filmed simultaneously on four buses in the week of TX during the election campaign, the comedy responded directly to real events as they unfolded. Art imitating life, or vice versa?
CyberBully
Raw TV for Channel 4
The one-off drama helped cement Maisie Williams' status as a rising star by casting her as a typical teenage girl who lives her life online and is accused of cyberbullying. "Inspired by dozens of real-life cases of online bullying", the story was shot in one location, giving it the effect of a one-woman play.
Murder in Successville
Tiger Aspect Productions for BBC Three
Tiger Aspect's genre-bending entertainment format was swiftly recommissioned by BBC Three and will be one of the shows that helps to establish the channel online. The series thrusts celebrities from Dermot O'Leary to
Pussycat Doll Kimberly Wyatt into a surreal fictional world to solve a crime alongside a renegade detective, played by Tom Davis.
No Offence
AbbottVision for Channel 4
Paul Abbot's uncompromising police drama took few prisoners, tackling head on the story of a serial killer who targeted Downs Syndrome girls, while forging its own path as a precinct drama powered by three strong female leads: Joanna Scanlan, Elaine Cassidy and Alexandra Roach. The results were an average of 2.3 million viewers and a recommission.
The Tribe
Renegade Pictures for Channel 4
Renegade's series transported the wildly popular fixed-rig filming technique to Ethiopia to observe a tribe for a primetime series told almost entirely through subtitles. "The series feels like a genuine leap geographically, practically and editorially for rigged documentary, and in its approach breaks new ground for anthropological filmmaking," the team said in their entry.