The launch of LViS v4 in May 2014 signalled the emergence of the platform from beta.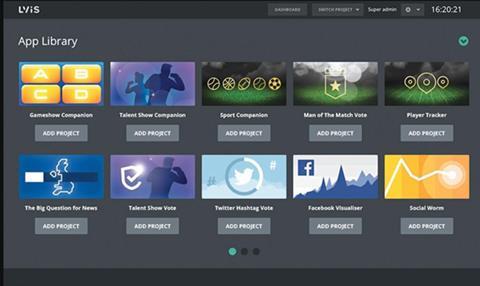 Since then, it has been used by broadcasters around the world, including Channel 4, for Million Pound Drop and the Grand National Horse Tracker; and Sky, for Got To Dance. Outside the UK, France's TF1 used it for The Voice, while Talpa in Holland used it for The Winner Takes It All. "This platform has evolved to fit the needs of broadcasters very well," said one judge.
LViS is a cloud-based platform for building second-screen apps. With a library of ready-built templates, it is designed to make it easy for producers to quickly build and deploy apps for driving mobile engagement with TV shows. LViS apps can be embedded into a website, show app, Facebook or Twitter, or published as a standalone native app.
Monterosa said it set out to bottle 10 years experience of building second-screen apps into a product that would make it possible for producers to build an app for their show or event without specific technical knowledge.
Our judges were unanimous: the company had achieved its aims and taken the pain out of creating multiplatform extensions. One judge said it "offers a practical out-of-the-box solution for broadcasters".
Shortlisted
All 4 for Channel 4
Channel 4 scrapped its 4oD brand after eight years in favour of All 4, an online destination featuring on-demand video, live streams and digital services. The service is personalised to registered users, offering recommendations based on usage and the ability to organise favourite shows and manage individual preferences.
Showcase relaunch for Freesat
Showcase provides Freesat viewers with suggested TV programmes chosen by Freesat's editorial team. The key aim of Showcase 2.0 was to make the interface more user-friendly, flexible and cross-platform capable. Freesat said the greater ease of use and consistency across touchpoints had increased viewer engagement.
Story Of Now
TouchCast for BBC
Story Of Now is an Idris Elba-fronted 20- episode interactive series that examines the history of the universe. Using Touch- Cast's video tool, viewers can move to other episodes from within a video. Each fiveminute episode contains hours of additional content, which users access by following subtitles with keywords that hyperlink to the extra material.
UKTV Play for UKTV
Launched in August 2014 on iOS, and later on PC, Android, Virgin TV and YouView, UKTV Play is a direct-to-viewer VoD service that consolidates pre-existing channel players into a single destination for UKTV content. It is also UKTV's first non-linear brand and offers themed collections of programmes and recommendations in a 'Staff Picks' area.
TVPlayer
Simplestream
TVPlayer is a live TV streaming service that allows viewers to watch online and on mobile and tablet devices. In 2014, TVPlayer added channels to its line-up including Euronews, Food Network, Travel Channel, truTV, Community Channel and S4C. Rather than rely on pre-roll ads, the service uses dynamic ad-replacement technology to insert ads on the fly.