Just as Gary Anderson had to fight off some tough competition to win the 2015 tournament, so Sky Sports had to defeat a host of high-profile rivals to triumph in this category.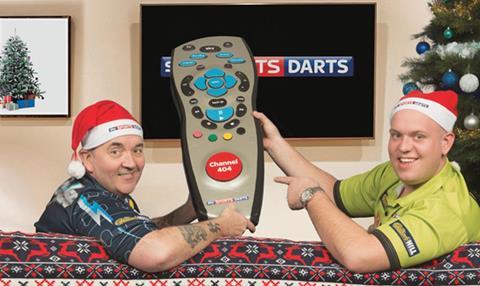 Faithfully capturing and relaying the action and energy of a live event is no mean feat. One problem faced by production teams covering sport is to create a programme that is accessible to newcomers, while not dumbing down the detail to such a degree that they alienate armchair aficionados.
The judges were won over by Sky Sports' approach, which they praised as a perfect balance between the two. "A success in engaging die-hard fans, but the quite phenomenal viewing figures demonstrated broad appeal," said one judge.
To counter the relative lack of movement in the game, Sky Sports opted for a range of camera positions and kit, including using super slow-motion to provide a detailed look at the players' throwing techniques and the movement of the dart. The efforts impressed the judges, who praised the production for being "innovative" and "beautifully crafted".
The ratings were another plus point, with an average of 345,000 viewers , while the five-minute peak for the final, simulcast with Sky Sports 1, reached 1.7 million.
Shortlisted
Isle of Man TT
North One Television for ITV4
The Isle of Man TT is the toughest sporting assignment of North One's year. The indie describes the schedule as "relentless", with 27 fast-turnaround UK and international programmes created in just 10 days. The result for ITV4 was strong ratings, with an average of 575,000 viewers and a high of 775,000 for the main race.
Monty Python Live (Mostly): One Down, Five To Go
Phil McIntyre and Hipgnosis for Gold
The return of Monty Python for the comedy group's last ever performance provided UKTV with an opportunity to venture into unknown territory, broadcasting a live event for the first time on such a scale. The risk paid off: the show was UKTV Gold's highest-rated programme ever.
MotoGP
North One Television for BT Sport 2
The British Grand Prix at Silverstone was the showcase weekend for BT Sport's opening season of MotoGP coverage, with more than 20 hours of live programming produced from the circuit across the weekend. To draw viewers into the action, a bespoke helmet mic was incorporated into BT Sport's reporter's helmet for an on-board lap feature at each of the 18 circuits.
Phillip's 24 Hour Live TV Marathon for Text Santa
ITV Studios for ITV3
Phillip Schofield's marathon TV challenge kickstarted ITV's annual fundraising charity extravaganza. The show used a host of ITV channels and platforms, with Schofield broadcasting across ITV, ITV3 and ITV2. Viewers could also keep up with his marathon efforts via a webstream during ad breaks.
Tour de France
VSquared for ITV4
With the 2014 Tour de France Grand Depart taking place in Yorkshire, interest in the event was bigger than ever. That helped to boost ITV4's figures, with a year-on-year increase of 23%. Live coverage on the first day averaged nearly 1 million viewers and peaked at more than 2 million, helping ITV4 achieve its best ever Saturday performance.
Award sponsored by StreamUK