Nominations announced for awards ceremony, which takes place 4 July at London's The Brewery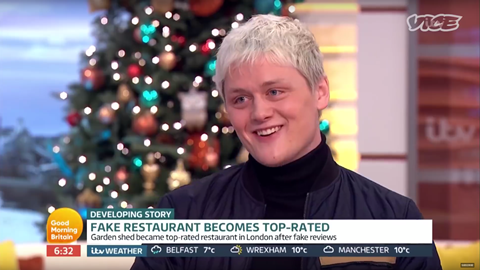 The changing face of British broadcasting has been highlighted as several new players are nominated in fresh categories at this year's Broadcast Digital Awards.
A host of new short-form categories have been introduced – Comedy, Documentary, Drama and Factual – with the likes of Snapchat, Vice and The Guardian all picking up nods.
The shortlists hand Vice UK and online publisher TrueTube.co.uk two nominations apiece in the new categories. True-Tube is also up for Best Original Web Channel, in a competitive field that includes Barcroft TV, BBC3, Beano Studios, History Hit and Mashed.
Among other non-traditional entries, The Guardian's cricket doc Second Innings is up for Best Short Form Doc and Snapchat is nominated for its Avalon and Vertical
Networks-produced dating format Ghost Hunt, along with HuffPost UK's The Chefs' Chefs.
The ceremony, which takes place on 4 July at London's The Brewery, will also feature separate categories for Long Form Comedy and Drama for the first time.
BBC3 dominates the Comedy list, with four nominations, including BBC Studios' Bafta-winning This Country, while Sky Atlantic has three drama series up for the prize: World Productions' Save Me, Kudos' Tin Star and Vertigo/Neal Street's Britannia.
Another Bafta winner, ITV Studios/Motion Content's Love Island, is up for both Best Entertainment Programme and Best Digital Support for a Programme, where it will compete with BBC Studios' Blue Planet II digital campaign, Channel 4's Ackley Bridge Snapchat campaign, the Brit Awards, BBC4's Contagion and Channel 5's Celebrity Big Brother.
Last year's winner in the coveted Channel of the Year category, BBC3, is nominated again, alongside BBC4, Comedy Central, E4, Sky Atlantic and Beano Studios, which is also up for Best Web Channel and Best Digital Children's content.
Broadcast Digital Awards shortlist 2018
Best Comedy Programme
Chewing Gum, Retort for E4
In the Long Run, Sprout and Green Door for Sky 1
Man Like Mobeen, Cave Bear and Tiger Aspect Productions for BBC Three
Roast Battle UK, Fulwell 73 Productions for Comedy Central
The Young Offenders, Vico Films for BBC Three
This Country, BBC Studios for BBC Three
Best Content Partnership or AFP
All Star Driving School, Rumpus Media for Suzuki and E4
Gfinity Elite Series, Noah Media Group and Gfinity for Gfinity and Eleven Sports
My Icon: Rainbow Laces , Sky Sports for Stonewall and Sky Sports Mix
Positive Energy, Renegade Pictures for Shell and National Geographic Channel
The Secrets in My Family, Boundless for Ancestry and W
Voltarol - Britain by Bike, Elephant House Studios for Voltarol and Channel 5
Best Digital Children's Content
Beano Studios, Beano Studios for Beano
CBeebies Playtime Island, Media Applications Technology for Cbeebies
Last Commanders, Objective Media Group Scotland, and Panda TV for CBBC
Nikki Lilly Meets, Blakeway North for CBBC
Pablo, Paper Owl Films, D3T and Bass Boulos for Cbeebies and RTÉ
The Pets Factor, True North Productions for CBBC
Best Digital Support for a Programme
Ackley Bridge Snapchat Campaign, That Lot and The Forge for Channel 4
Blue Planet II Digital, BBC Worldwide, BBC and BBC Studios for BBC One
Celebrity Big Brother 2018: Bolder. Braver. Better. Initial and Endemol Shine UK for Channel 5
Contagion! The BBC Four Pandemic, 360 Production for BBC Four
Love Island - Owning the Summer on Digital, ITV Digital Studio and Monterosa for ITV2
The BRIT Awards 2018, Somethin' Else for ITV
Best Digital Support for a Strand, Channel or Genre
BBC Three
BBC's Minds Matter Season
Discovery Channel UK
MTV Pride
Paranormal on Really: Haunted Dolls Live Feed
Tomorrow's World - Global Change Calculator
Best Factual Channel
BBC Three
BBC Four
History
Quest
Best Original Web Channel
Barcroft TV
BBC Three
Beano
History Hit
Mashed
TrueTube
Best Popular Factual Programme
Faking It: Tears of a Crime, Shearwater Media for Investigation Discovery
Inside My Head: A Newsround Special, CBBC Production for CBBC
Inside the Ambulance, Brown Bob Productions for W
Junior Doctors: Blood, Sweat and Tears, BBC Studios for BBC Three
Portrait Artist of The Year 2018, Storyvault Films for Sky Arts
Valley Cops, Minnow Films for BBC Three
Best Programme Acquisition
Ronny Chieng: International Student, BBC Three
The Good Fight, More 4
The Orville, Fox
The Vietnam War, BBC Four
The White Princess, Drama
Young Sheldon, E4
Best Short Form Comedy
Absolutely Fine, Comedy Central International for Comedy Central
Bad Snappers, Factory Films for Comedy Central
How to Become TripAdvisor's #1 Fake Restaurant, Vice UK for Vice UK
Pls Like, Left Bank Pictures for BBC Three
Quickies, BBC Studios for BBC Three
Romesh Talking to Comedians, Green Door Pictures for BBC Three
Best Short Form Documentary
Ambulance: Difficult Labour, BBC Three for BBC Three
Generation Trump, CC-Lab for BBC Three
Second Innings, The Guardian for theguardian.com
Sex Map of Britain: Desperately Seeking Semen, BBC Studios for BBC Three
What Do You Mean I Can't Change the World? CTVC for TrueTube.co.uk
Best Short Form Drama
Overshadowed, Rollem Productions for BBC iPlayer and BBC Three
Queers, BBC Studios for BBC iPlayer
Random Acts: Last Words, Green Rock with Little Dot Studios for Channel 4
Screwball! CTVC for TrueTube.co.uk
The Break, The Comedy Unit for BBC Three
Best Short Form Format
Chat Shit Get Elected, Vice UK for Vice UK
Eating With My Ex, Shotglass Media for BBC Three
Ghost Hunt, Avalon and Vertical Networks for Snapchat
Let's Settle This, BBC Studios Digital for BBC iPlayer
The Chefs' Chefs, Stepping Stone Media for HuffPost UK
Things Not to Say Best, Mentorn Media for BBC Three
Best Specialist Channel
Beano
CBBC
CBeebies
Crime + Investigation
Sky Arts
Walter Presents
Best Sports and Live Event Coverage
100 Women, Sky News for Sky News and Twitter
BBC Four PROMS 2017: Oklahoma! BBC Studios for BBC Four
Eurosport's Pyeongchang 2018 Winter Olympics, Eurosport UK
Game4Grenfell, Legends TV and Expectation Entertainment for Sky 1
Premier League Tonight, Sunset+Vine for BT Sport 1
Winter Olympics, BBC Sport and BBC Online for BBC Red Button and BBC Four
Best VR Experience
Sponsore by Shooting Partners
BBC Earth: Life in VR - Californian Coast BBC Worldwide, BBC Studios Digital and Preloaded for Google Daydream
Damming the Nile: BBC for Oculus Go, Gear VR, YouTube, Facebook and the BBC News website
From Virtual to Reality: Jonathan Yeo and The World's First Large Scale, 3D Printed Sculpture, Factory 42 for YouTube, Google Arts & Culture and at the Royal Academy
One Deadly Weekend in America VR, Parable for YouTube, Facebook and BBC Taster VR
Trending Gold, Jaunt VR for Olympic Channel and Olympic Channel VR
Wonderful You VR, BDH Immersive for Oculus and Gear VR Stores
Channel of the Year
Sponsored by Babcock
BBC Three
BBC Four
Beano
Comedy Central UK
E4
Sky Atlantic