Interview with creator Tom Tykwer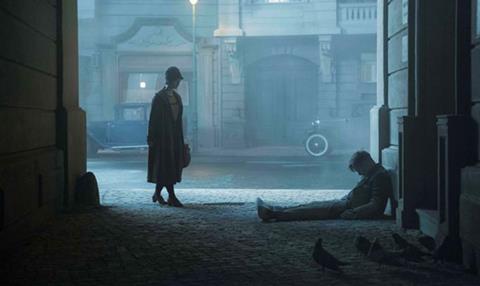 Run Lola Run director Tom Tykwer has said he is "married" to television after his first major foray into the medium with big-budget Sky Deutschland/ARD drama Babylon Berlin.
Tykwer confirmed that the 16-episode drama – set to air on Sky in the UK in October – cost €2.4m (£2m) per episode, and shot across 260 locations. The order spans two series of eight episodes, though it could extend to at least four more series.
The drama, which follows German detective Gereon Rath and his various cases in 1920s Berlin, began shooting in 2013, at the same time as drama Deutschland 83, though the latter premiered on commercial broadcaster RTL in the summer of 2015.
Tykwer, whose recent film credits include A Hologram for the King and Cloud Atlas, said he is "hooked" by the new wave of filmmaking for TV, adding that it has evolved in the last decade into "incredibly inspiring work."
"It saves us, in a way, from the crisis of cinemas," he said, adding that it is increasingly difficult to make independent films from "a certain budget onwards".
"I've really suffered from my recent films, just to put them together, it's been so hard. And then suddenly there's this new form and it's really inviting us to do things we want to do, and it's not like we have to make any compromises."
Tykwer's prior TV experience included directing two episodes of Netflix's 2015 sci-fi series Sense8 – an experience that served as a "test" for the auteur filmmaker before bringing Babylon Berlin to screen.
"I learned a bit about how to be faster," he said. "You can't go four different ways to see which is right; you have to go one way and sometimes two. I had to learn that, because I love to experiment in different ways."
Tykwer, who directed alongside long-time collaborators Henk Handleoegten and Achim von Borries, said that the €40m (£33.9m) budget will be seen on screen.
"We were dying to make a show that's not ultimately [using] one substantial interior location to shoot three-quarters in. We said we want the opposite – we want to walk around Berlin as if we had jumped into a time machine and we can walk outside and do whatever we want."
Because many of the original locations were devastated during the war, Tykwer's team had to recreate the era in a custom-built backlot at Babelsberg Studio, which features four different streets and various yards.
"The fact that one episode is €2.4m is amazing – it looks double that. It looks like a lot of money had to be spent, and that's how we looked at it – we wanted it to be a spectacular cinema show," he added.
IFC picks up Baroness von Sketch show
US cable network IFC has picked up sketch comedy series Baroness von Sketch show. The AMC-owned broadcaster is to air 13 episodes of the half-hour comedy beginning in late-summer. The series – recently selected as a Broadcast Hot Pick – has an all-female cast, and is performed and written by Meredith MacNeill and Second City alumni Carolyn Taylor, Aurora Browne and Jennifer Whalen. The show is produced by Frantic Films for Canadian public broadcaster CBC, and distributed internationally by Banijay Rights.
Hera Pictures takes UK rights to Valkyrien
Liza Marshall's fledgling indie Hera Pictures has picked up English-language rights to Nordic thriller Valkyrien. The show is set to premiere on Channel 4 foreign-language drama service Walter Presents this month. It is already available on Walter Presents' SVoD service in the US. Set in an illegal hospital, Valkyrien follows a surgeon desperate to find a cure for his dying wife. Hera will relocate the drama to London with actor Mark Strong cast as the lead. Originally produced by Norway's Tordenfilm in 2016 for NRK, Valkyrien was created and directed by Erik Richter Strand. Hera acquired the rights from Laurent Boissel and Emmanuelle Guilbart at About Premium Content.
Sonar takes Tricon catalogue, moves into non-scripted
LA-based producer-distributor Sonar Entertainment has picked up assets from LA- and Toronto-based producer-distributor Tricon Films & Television, which went into administration in December. Sonar has picked up Hulu kids series Counterfeit Cat, and is also acquiring Tricon properties that are in development, such as Disney series Go Away Unicorn and non-scripted Discovery series Texas Metal and Scripps' Food's Greatest Hits. Sonar is also acquiring the distribution rights to over 1,500 hours of Tricon's library programming. Tricon senior execs will also be joining Sonar, including founder and president Andrea Gorfolova, who launched Tricon in 2000.
Armoza opens Latin American office
Israeli formats developer and distributor Armoza Formats is opening a Latin American office. Based in Miami, marking the company's first move into local offices. Karina Dolgiej will head the office as sales director for LatAm, reporting into Armoza's head of sales Sharon Levi. Armoza Formats chief executive Avi Armoza said the new outpost is a "significant move" for the business, as it looks to build "more strategic partnerships and relationships at a local level" an increasingly important region.
All3Media Deutschland strikes JV
All3Media Group's German production business, All3Media Deutschland, has struck a joint venture with film producer Bon Voyage Films. The German company will develop and produce scripted drama for commercial and public broadcasters as well as OTT platforms, while All3Media International will become distribution partner for Bon Voyage serial productions. All3Media chief executive Jane Turton said the new venture offers an opportunity to grow its scripted drama slate in Germany and internationally.