Valkyrien showrunner on "worn out" Nordic noir genre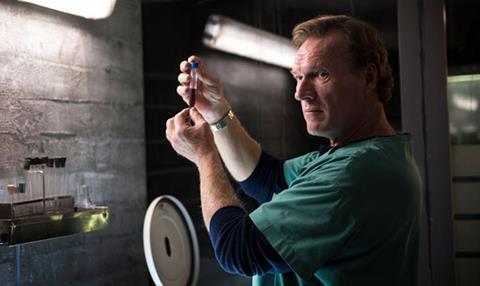 Erik Richter Strand, showrunner of one of the year's most anticipated dramas, Valkyrien, has said that the Norwegian series is looking beyond a Nordic noir genre that has "worn itself out."
The drama aired on Norwegian broadcaster NRK earlier this year and will premiere on Channel 4's foreign-language drama service Walter Presents next month. It has been billed by host and curator Walter Iuzzolino as "this year's Deutschland 83" and is already available on the on-demand service's fledgling American SVoD platform.
Valkyrien follows a physician who keeps his terminally ill wife in an induced coma as he races to find a cure for her illness. The doctor runs an illegal, underground clinic in an old bomb shelter, and funds his project through alliances with the criminal world and by treating patients who need to stay off the grid.
Strand, who co-wrote six of the eight episodes, told Broadcast that while the 'Nordic noir' label has been a useful reference point for audiences and buyers, the term is now "too wide-reaching".
"It was fine before, and it worked well for The Killing and The Bridge, but very often 'noir' is used to refer to the bleak, washed-out colours of a male protagonist who is distressed," said Strand.
"It's often based on misogynist ideas. For example, there is a mutilated female corpse in the first episode, and then there is a mass murderer. Our series is very different – it's not a crime series, it's not based on misogyny, and there is hardly any violence."
Nevision-owned distributor About Premium Content has scored sales for the drama across Australia and New Zealand, Denmark, Sweden and Finland, with talks underway for France and Germany.
The series was first conceived in 2006 by Thomas Seeberg Torjussen, Lars Gudmestad and Simen Svale Skogsrud, who brought the idea to Tordenfilm founder Eric Vogel. In 2013, the indie contacted Strand to finish writing the series and direct.
Valkyrien's dark themes – and a compelling Doomsday prepper character – resonates with audiences watching in today's political climate, according to Strand.
"We wrote this before Brexit, [Donald] Trump, [Marine] Le Pen, and a lot of the things happening in Europe today, which is only making the ideas more relevant," he explained.
"It's a very good time to be creating new drama that isn't based on a book or IP that's already been proven or sequeled. It's fertile ground to be creating original drama with a contemporary political edge."
Liza Marshall's fledgling indie Hera Pictures recently won English-language rights to Valkyrien after a bidding war with the likes of 13 Reasons Why producer Anonymous Content.
Marshall is currently in talks with a UK broadcaster and is looking for a British writer for the project. She also hopes Strand will direct a few episodes.
"Inevitably, there will be changes because we're going to set it in London and use disused underground stations beneath London," said the former Channel 4 drama chief, who hopes to secure American co-financing for the project.
She added that the storyline may also due to the presence of the UK's National Health Service rather than a private healthcare system.
Critical Content to adapt Left Hand of Darkness
Tom Forman's LA-based production outfit Critical Content has optioned the television rights to produce and adapt a scripted limited series based on Ursula K. Le Guin's novel The Left Hand of Darkness.
The award-winning science-fiction novel tells the story of a lone human emissary's mission to an alien world whose inhabitants have a complex and androgynous sexuality.
Critical Content's scripted credits include Young & Hungry (Freeform), Start Up (Crackle) and Limitless (CBS). Forman, Andrew Marcus and Ray Ricord will executive produce with Le Guin serving as a consulting producer.
Grandpas Over Flowers heads to Turkey
LA- and London-based distributor Small World IFT has sold Grandpas Over Flowers into Turkey. Entertainment channel Show TV has bought the series, and plans to broadcast this summer.
The first series, which has already been shot by local producer Bloom Medya, filmed in India, Nepal and Vietnam, and features a female cast of entertainment legends. The format – originally created by South Korean producer CJ E&M – was recently commissioned by Italy's Rai 2, and US broadcaster NBC also ordered a second series of its adaptation Better Late Than Never.
Small World has inked options for the series in Poland, Israel and Ukraine.
Hulu hires AMC exec
US SVoD platform Hulu has hired AMC's Joel Stillerman for the newly created position of chief content officer.
The exec was most recently president of originally programming and development for AMC and Sundance TV. Stillerman will relocate to Santa Monica, California, to start the position this summer, and is to oversee original programming and acquisitions. He will report to Hulu chief creative Mike Hopkins. Craig Erwich will stay on as senior vice-president and head of content at Hulu, reporting into Stillerman.
The platform recently handed a second series order to its breakout drama series The Handmaid's Tale.