Sponsored content
Find out more
Tracy Brabin, the newly elected mayor of West Yorkshire, is battling to keep C4 out of private hands and deliver a Creative New Deal for the region
As a former scriptwriter and Coronation Street and EastEnders actress, mayor of West Yorkshire Tracy Brabin understands the TV industry better than most politicians.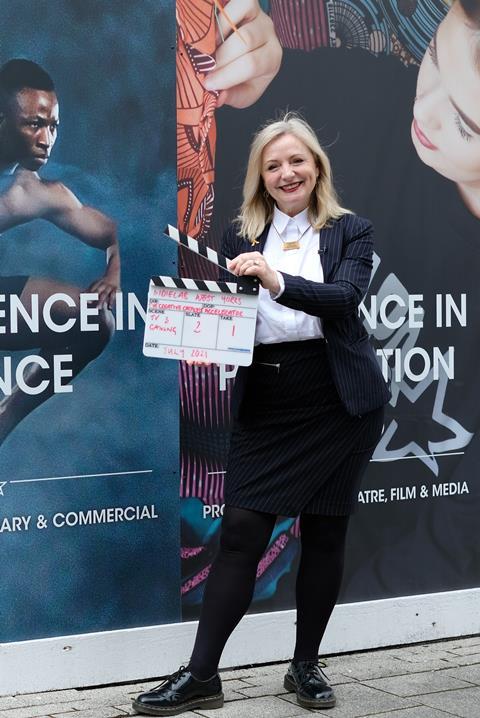 Elected in May, it's hardly surprising, therefore, that Brabin has moved quickly to bolster the creative economy of West Yorkshire, which spans the councils of Leeds, Bradford, Wakefield, Calderdale and Kirklees, to help the sector recover from the recent economic shocks.
One of her key campaign pledges to voters is to champion a Creative New Deal that ensures the creative industries are part of the region's broader economic recovery strategy. A key pillar of this will be ensuring the creative sectors benefit from the increased nations and regions' spend from the major broadcasters, including Channel 4, which is now up and running in its new Leeds HQ.
Aligning with this pledge, Leeds City Region Enterprise Partnership (the LEP) last month announced the launch of Indielab West Yorks: The Creative Catalyst Accelerator.
The West Yorkshire region has emerged as a TV production hotspot since Leeds won the 2018 bid to house C4, which accounts for £492m of UK production spend. Of this, C4 spent £189m on production in the nations and regions in 2019 and £141m in 2020, despite the pandemic-enforced production shutdown.
Lime Pictures' non-scripted label Wise Owl, comedy indie Hell Fire! and Manchester-based Workerbee have opened offices in the city, while broadcasters Sky and UKTV, the National Film and Television School and TV trade body Pact have launched Leeds hubs. In March, the BBC announced that two BBC News teams will move to the city and Indian media services powerhouse Prime Focus recently moved in, too.
C4 is now ingrained on the Leeds media landscape, and Brabin has simultaneously emerged as a vocal opponent of the potential privatisation of the broadcaster, following the government's recently launched consultation.
Having worked in the industry, Brabin recognises that C4's public service remit to champion diversity and inclusion, and to commission content from local production companies, has been key to its "phenomenal" impact on the region. "That's why we bid for C4 to come here, so it's frustrating that we have a company that is going to potentially be taken away from us, or potentially changed beyond recognition from what we bid for."
Brabin says she has started working with other mayors, local MPs and indies to lobby against privatisation. "This isn't just about West Yorkshire," she says. "While it's a jewel in our crown in Leeds, C4 is a national treasure. This is also about C4's activity around the nations and regions – it spends over 50% of its commissioning money outside the M25."
Brabin also believes that PSBs like C4 are a vital part of the ecology of the cultural sector. She recalls her time as Shadow Secretary of State at the DCMS, meeting with streamers such as Amazon and Netflix. "They were telling me, 'We need public service broadcasting because they deliver what we can't.' They are the incubators of talent, who then go on to Netflix and Amazon," she says.
"We will roll up our sleeves and make the case that C4 must stay in our region"
Tracy Brabin, Mayor of West Yorkshire
The plan to sell C4 is "an extraordinary and perplexing decision from a government that is currently under siege with so many other life and death priorities", says Brabin.
"I don't understand why this has managed to get itself so high on the agenda. It's really incumbent upon me as the Mayor of West Yorkshire to stand up for one of our five-star, gold-plated businesses and say to government, 'Tell us your reasoning, because this does not make sense.' We will roll up our sleeves and make the case that C4 in its current construction must and should stay in our region."
While she battles on that front, Brabin remains focused on delivering the Creative New Deal. The LEP's recently launched Accelerator programme is designed to support TV and gaming firms by enhancing their turnover and resilience, as well as providing networking opportunities for local talent.
It will be delivered by creative industries training expert Indielab and provide masterclasses in winning business and delivering content for commissioners such as C4, Netflix and Amazon. It will also help indies become more competitive by expanding their customer bases and maximising revenues from secondary sales in overseas markets.
Brabin says that, in an ever-changing media landscape, there will naturally be some pain for producers as PSBs and global media giants evolve their operating models. "The LEP's partnership with Indielab is about preparing our businesses for exactly that."
The Accelerator programme is part of a £1.5m Creative Catalyst sector development scheme to help grow the creative industries in the region. "We've got a brilliant creative sector in West Yorkshire," says Brabin.
She also cites a thriving gaming industry in Leeds, highly regarded filmmaking courses in Bradford, which was named as the world's first Unesco City of Film in 2009, and 'talent incubator' theatres such as the Lawrence Batley in Huddersfield and the Leeds Playhouse.
"Wellbeing and robust mental health are going to be part of our recovery"
Tracy Brabin
Brabin stresses that she is "not completely focused on the creative industries" and emphasises that her manifesto spans everything from taking local buses into public control to building 5,000 sustainable homes and creating 1,000 jobs for young people. "But my experience as an actor and writer has given me a unique insight into the creative industries," she adds.
As well as turns in Corrie and EastEnders, Brabin starred opposite David Jason in 1989 comedy drama A Bit Of A Do, and played Sarah, Duchess of York, in the 1992 TV movie Charles And Diana: Unhappily Ever After. She has also written for Heartbeat, Family Affairs, Crossroads, The Story Of Tracy Beaker, Doctors, Hollyoaks, Shameless and Seacht, among others.
More recently, she has focused on politics, winning the Batley and Spen by-election in 2016 following the murder of her friend, the MP Jo Cox. She retained the seat for the Labour Party in the 2017 and 2019 general elections, serving as Shadow Secretary of State for the DCMS in Jeremy Corbyn's Shadow Cabinet, and then as Shadow Minister for Cultural Industries under Keir Starmer.
She stood down as an MP after winning the inaugural Mayor of West Yorkshire election in May. Brabin's victory, with almost 60% of the vote, gives her strategic powers in a region with a population of 2.3 million.
Before the pandemic, Brabin says, the region's creative industries "were absolutely bossing it". She wants investments such as The Creative Catalyst programme to help lift companies back up and to benefit the region. "I think we're going to do incredibly well, once we can come out of Covid," she says.
Brabin cites developments such as the soon-to-open TV and film studio Leeds Studios and creative facility Tileyard North in Wakefield, and the expansion of Wakefield live events facility Production Park as evidence.
She admits that the creative industries can sometimes be viewed as a 'nice to have' rather than a priority by those who don't necessarily engage with them, but she believes they will be pivotal to a "fair and just recovery" from Covid.
"Wellbeing and robust mental health are going to be part of our recovery," she says. "That includes a cultural offer – whether it is playful cities, open-air shows, great libraries, dance for dementia sufferers or art classes for those with depression. Having that creative thread running through everything is going to be quite exciting, but also very important for our growth, our GVA [gross value added], and our wellbeing."

For more info and to register interest in Indielab West Yorks: The Creative Catalyst Accelerator, visit www.weareindielab.co.uk/west-yorks