Sponsored content
Find out more
Event takes place in Lincoln's Inn's Ashworth Centre on 26 April
A unique event for the content production sector, the TellyCast Content Funding Festival features panel sessions from key players in content funding and production.
Attending producers can also pitch their new projects to event sponsors in pre-scheduled face-to-face meetings and network with attending financiers.
The day-long event will feature panels includingThe New Finance Models, sponsored by capital funding provider Pipe, Blockchain and NFTs, sponsored by blockchain financing platform MContent, Co-production Evolved, sponsored by distributor, channel owner and Quintus Co-Pro Club creator Quintus Studios and Brand Funded Programming 2.0, sponsored by Publicis-owned APX Content Ventures.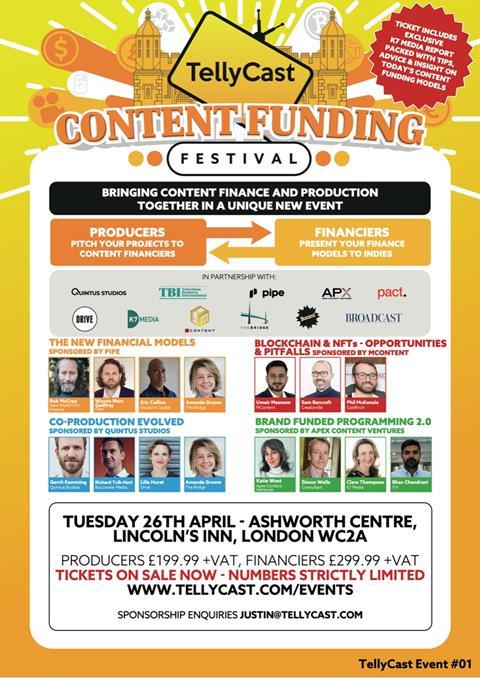 Panel sessions are designed to provide actionable insights into funding, rights & IP developments. Where are the opportunities? What are the pros and cons with different deal arrangements? What are the new models and technologies that are changing the way content is financed in today's production boom.
Panellists confirmed for the event include some of the content industry's leading independent producers, distributors, finance experts, analysts, opinion leaders and financiers in brand funded programming, co-production and Web 3.0 including:
Sam Barcroft, Creatorville
Richard Tulk-Hart, Buccaneer Media
Bhav Chandrani, ITV
Gerrit Kemming, Quintus Studios
Lilla Hurst, Drive
Simon Wells, consultant and former Channel 4 Controller of Branded Entertainment
Rob McCrae, New World Film Finance
Amanda Groom, The Bridge
Katie West, APX Content Ventures
Eric Collins, Impact X
Wayne Marc Godfrey, Pipe
Clare Thompson, K7 Media
Phil McKenzie, Goldfinch
Companies already signed up to attend include BBC Studios, Channel 4, Fremantle, the Story Lab, Woodcut Media, Big Little Fish, Off The Fence, Beyond Rights and more.
The TellyCast Content Funding Festival is hosted by TellyCast host and Boom! PR founder Justin Crosby.
Other event partners include Broadcast, Pact and Television Business International and each delegate will receive an exclusive free report, packed with tips, advice and insight on today's content funding model, courtesy of industry intelligence experts K7 Media.
Tellycast: Content Funding Festival takes place on 26 April at Ashworth Centre, Lincoln's Inn