Sponsored content
Find out more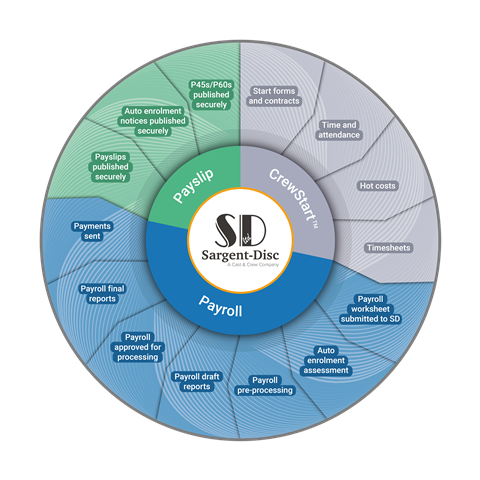 Sargent-Disc's End-to-End Digital Payroll Workflow is the first completely digital production payroll service available to the entertainment industries of the UK and Ireland.
Before Covid-19, efficiency and sustainability were the predominant reasons for productions to go paperless. As expected, the pandemic has accelerated the need for systems that are both reliable and contactless. This has led to a marked increase in uptake of Sargent-Disc's Digital Production Office tools.
MODERN SOLUTIONS
Covering every step of the payroll process, Sargent-Disc's End-to-End Digital Payroll Workflow is a safe and efficient solution that enables sustainable working practices for production accountants. Easy to use, the system can be tailored to meet the needs of all productions – regardless of type or size.
A SIMPLE PROCESS
The End-to-End Digital Payroll Workflow consists of three simple steps powered by the CrewStart, Payroll and Payslips applications within the Digital Production Office.
Here's how it works:
1) CREWSTART
CrewStart enables productions to fully automate the essential processing of start forms, contracts and timesheets. It saves time and ensures consistent accuracy and legibility, streamlining a previously labour-intensive process.
Progress is tracked through bespoke approval chains that can be adapted to suit your needs. Compatible with mobile, tablet and computer devices,
CrewStart keeps the information you need at your fingertips, wherever you are. It also offers the following features:
ONBOARDING Use existing start paperwork and contracts to simplify the onboarding process for crew and artists.
Complete, sign and approve start forms and contracts digitally, while keeping data secure. Crew need only complete their data once; after that it is securely stored and can be reused for subsequent productions.
HOT COSTS Easily track crew time and attendance to ensure accurate payments. Hot costs are monitored in real-time, providing accounts teams with a constantly up-to-date view of labour spend, even when operating under complex union rules such as Pact/Bectu television and feature film agreements.
TIMESHEETS Batch-generate timesheets at the end of each week and automatically send them with specific department approval chains for completion, signing and approval.
"Covid-19 has changed the landscape of film and TV production, with production needing to minimise the handling of physical documentation to ensure a safer working environment for crew, artists and other employees. Sargent-Disc's digital payroll workflow has been a very useful, safe and comprehensive solution for productions working in the Covid era"
Tim Wellspring, unit production manager
2) PAYROLL
On completion and approval, start paperwork can be submitted securely to Sargent-Disc's Payroll Team via CrewStart while Sargent-Disc handles all aspects of payroll for the production.
PROCESSING Payroll worksheets can be sent for processing to the Payroll Team via the secure online client portal, avoiding the need to send confidential information by email.
PAYMENTS The Payroll Team assists with the payment of cast, crew and other employees in a range of global currencies.
The service fully complies with the latest payroll legislation and regulation, including a fully managed e-filing facility for all Real Time Information (RTI) submissions in the UK and PAYE Modernisation in Ireland.
DISBURSEMENTS Sargent-Disc can also manage disbursements on behalf of the production, including payment of tax and national insurance (or PRSI) and handling union dues and pension contributions.
PENSIONS The Payroll application also offers an Auto Enrolment Pensions Solution that can integrate the production's pension and payroll service with pension providers offering qualifying Auto Enrolment schemes.
TRACKING The native Payroll application for iOS and Android includes a host of features that increase efficiency, including a single sign-in, 24/7 access to payroll information and management reports.
3) PAYSLIPS
With just one sign-in, the Payslip application enables employees, freelancers and their agents to access payslips and view full payment histories from anywhere in the world.
End-To-End Digital Payroll Workflow is an industry-leading piece of Sargent-Disc's Digital Production Office® suite. To learn more, visit: www.digitalproductionoffice.com