Sponsored content
Find out more
Speaking at the Broadcast Indie Summit, the FTVC's Andy Glynne described how the charity aims to make its Whole Picture Toolkit the industry standard for staff wellbeing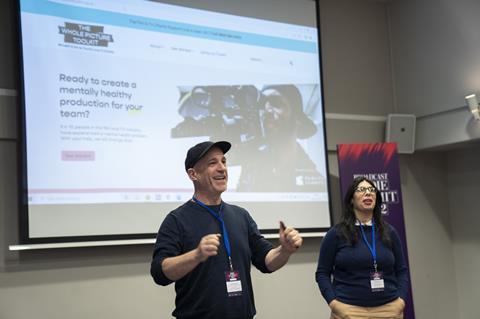 The Film and Television Charity is aiming for its Whole Picture Toolkit to become an industry standard for mental health within the next couple of years.
Speaking at the Broadcast Indie Summit, the charity's Whole Picture Programme director Andy Glynne said the toolkit, which combines bespoke and established wellbeing resources and templates, is designed to 'set the tone of production', from initial risk assessment to HR practices sometimes missing at smaller companies, such as exit interviews.
Split into three sections – pre-production, production and post – each with its own set of mini guides, the website is designed for people working on different parts of a production to use at any stage, and adopt any elements they choose.
The toolkit is part of the charity's broader 'Let's Reset' behaviour-change champaign, ignited by its second Looking Glass report, which found that just one in 10 people working in TV agreed that it is a mentally healthy place to work.
The charity wants to have 100 companies using the toolkit by the end of 2022. In time, it wants mental health support to be written into all budget lines and for the toolkit to become the wellbeing equivalent of diversity standard Diamond or the albert sustainability kitemark.
"Albert started off voluntarily as a BBC/Bafta co-production and has now become mandatory within production," said Glynne, a Bafta-winning producer and director. "We could be doing the same with mental health."
"W're trying to make it more acceptable to talk about mental health"
Andy Glynne, Whole Picture Programme director, FTVC
The toolkit is designed to open conversations around mental health, to support a more balanced workplace with fewer absences, a happy and properly motivated team, and better staff retention.
"When people join your team, you could ask them, 'What might upset you about this production?'" said Glynne. "Having daily chats, saying, 'Hi, how's it going? What was your weekend like?' – these are tiny things, but the impact of sharing can be huge. People can suddenly go, 'Do you know what? It's okay to talk about not feeling well'. That's the crux of everything we're doing here: to try to change that conversation, to make it more acceptable to think about, talk about and address mental health."
TRIGGERING CONTENT
Glynne used the example of a documentary with potentially triggering subject matter. "You might be interviewing victims of sexual abusers. What does that mean for your crew and their wellbeing? Maybe it's simple things like checking in at the end of the day, making sure they're taking regular breaks and they're briefed on the triggers they might experience. We often forget that a director isn't necessarily sitting with their editor every day.
"There's evidence to suggest that that kind of multiple exposure [to upsetting content] can lead to vicarious trauma. How do you mitigate for that? It might be making sure the editor sits further back from the screen, or playing different music that might not be used in the final edit."
Whole Picture project lead Valeria Bullo stressed that the toolkit does not have to be used in a linear fashion and its templates are not one-size-fits-all. Case study material is drawn from pilots undertaken across different genres and budgets at indies including Leopard Pictures, Mini Productions, Offspring Films and STV.
"Not everything within the toolkit will be relevant to your particular production and we do recognise that, for some, it will be the start of the journey," she said. "In developing it, we worked with heads of organisations, people with mental health expertise and HR teams, but [it's crucial to have] people on the ground really listening to what you need to do your job better." One company, for example, incorporated four of the exit interview template's questions into its own set of guidelines.
Early reaction from broadcasters has been positive, with Glynne confirming that many are recommending specific productions that could benefit from using the toolkit, while others are introducing it to commissioners and wider production networks.