Sponsored content
Find out more
Sargent-Disc has raised the bar on financial processes, with digital systems that have brought efficiency to the working practice on high-profile shows such as Ted Lasso and The Sandman
Managing the accounting processes that help deliver high-profile international shows such as Emmy-award winning comedy Ted Lasso and upcoming Netflix fantasy series The Sandman is a complex task. Amid a global pandemic, the challenges become larger and more numerous.
Here, the accounting professionals behind these major TV productions share how Sargent-Disc's Digital Production Office® helped them find new ways of working.
"Development of this kind of production software revolutionises the industry," says Corrine Millson-Crane, production accountant for both titles. "When Covid-19 struck, we were lucky to already be working within the Digital Production Office® world, because the pandemic made it essential to go paperless."
Financial controller Ann Marie Fitzgerald adds: "The environmental benefits of the applications are very important for the studios in terms of reducing and reporting on their productions' carbon emissions."
"One of the biggest challenges we've seen in the past is reluctance within the industry for change, even if it's positive," continues Millson-Crane. "Not because the benefits aren't obvious, but because people are under pressure, crew already have demanding jobs with long hours and they don't want to have to learn new systems and ways of working because they often feel they simply don't have the time."
Fitzgerald agrees: "Yes, I think there's sometimes a resistance amongst some of the crew who may not be used to digital processes, surprisingly we have a minority of crew who don't have the technology themselves that is compatible with the new onboarding systems and payrolls."
"The pandemic has forced productions to adopt digital systems and has moved things forward quickly"
Corrine Millson-Crane, production accountant
"I think productions would benefit from taking a step back and trying to be adaptable" says Millson-Crane. "We should stop trying to force the software to replicate how we have done things with paper in the past. Let's reassess what we really need to do and the best way to do it with the requirements we have today. I think the challenge of finding working solutions during the pandemic has changed the way productions and software developers work together and how both sides see things. For me that's been really significant.
"Production crew are usually freelancers that are there to fulfil their job role and not to change the world by planning long term how things will be done so inevitably there's going to be a certain amount of push-back when you try to change the way you do things. However, the pandemic has forced productions to adopt digital systems and has moved things forward more quickly, which has ultimately proven useful in many ways. When I first started I tried to force it to fit my everyday processes, but in the past year, I've been forced to rethink, to question how we can adapt what we do and how we do it, in order to use the software to its best functionality and in turn allow us to work as efficiently as possible."
CrewStart™ and Payroll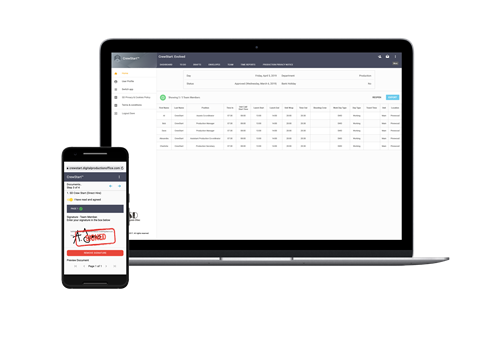 CrewStart™, Sargent-Disc's onboarding application, helps production teams automate the processing of contracts, start forms, daily rate vouchers and timesheets.
"It's so simple to click on an employee's name and see everything about them all in one place," says Fitzgerald. "Nothing gets lost – it's all there. In the past, paper contracts could be on anyone's desk, people could misplace them or deny having received them. Now when you sign a contract digitally, it's stamped with the name, time and code, so you have an audit trail of where it is at all times. I can't imagine going back – in fact I've almost forgotten how we used to have mountain-loads of documents that we continuously had to chase people to sign!"
Millson-Crane first used CrewStart™ on season one of Ted Lasso, not long after it was rolled out to television productions. "It was really, really new back then and has since continued to evolve in terms of functionality. I was especially attracted to it for the timesheet module. Before the updated Pact/Bectu Agreement everyone was on the same rate of overtime and the rules were fairly simple, you could receive a paper timesheet and calculate a crew member's overtime reasonably quickly by hand. It was manual, a bit hefty if you had a large crew but easy enough. But then the rules changed, such as the overtime rate becoming calculated based on a crew member's salary and different rates for each type of overtime, and Payroll became much more complicated."
She continues, "I designed an excel spreadsheet to calculate overtime but it quickly became apparent that it was a mammoth task to use a spreadsheet to capture all working scenarios and calculate all types of overtime, broken turnaround, night work etc accurately. So to have the CrewStart™ software that could calculate all that for you, it certainly felt like the way the industry was going."
Having now used it on upcoming fantasy series The Sandman, Millson-Crane says she would never go back. "CrewStart™ has adapted the way my team in the Accounts Department work," she explains. "In the past, the Payroll team would come in on a Monday to a stack of paper timesheets and have to spend half the day tracking down the missing ones. They would spend hours sorting through and checking them and have to transfer all the information onto a spreadsheet to send to Sargent-Disc – all manually. With CrewStart™, the team can come in and ping the timesheets out in a few hours, then just wait for them to come back signed off. Everything is in one place and trackable, the overtime is calculated automatically and the data is downloaded to a spreadsheet at the click of a button. It makes a world of difference to our efficiency."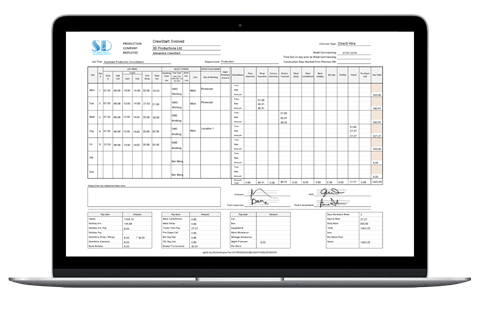 On completion and approval, start paperwork can be submitted securely through CrewStart™, with payroll worksheets sent for processing to the Sargent-Disc Payroll Team via the secure online client portal. The team can also manage disbursements on behalf of productions, including payment of tax and national insurance or PRSI, union dues and pension contributions. Employees, freelancers and their agents can access payslips online via the Payslip application from anywhere, any time.
Find out more about Sargent-Disc's end to end Digital Payroll Workflow here.
Digital Purchase Order
Sargent Disc's Digital Purchase Order (DPO) is a cloud-based expense management system that allows you to instantly create and approve purchase orders via a web browser or mobile apps.
For Millson-Crane, it's been a gamechanger. "Compared to paper purchase ordering, DPO is a much more effective and efficient way of keeping track of costs and ensuring you know where every single PO is at all times. The approval chain enables HODs and all the other people who have to sign off on a PO, to log into one place and digitally approve it. Once approved, the PO goes to everyone who needs it immediately - rather than having someone walk it from office to office."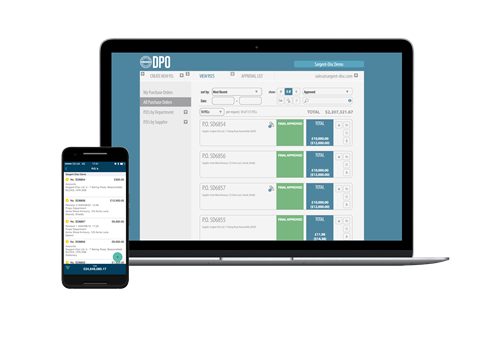 Andy New, production accountant on Ted Lasso season two, agrees. "We stopped using six-part paper POs, in part for environmental reasons but also for the convenience of having a smooth electronic system, rather than walking about the building trying to get things signed off, particularly on locations. It's just a damn sight easier and you can actually read what's on it, rather than try to decipher a scrawl across six pages."
Fitzgerald loves the immediacy of data access. "If I'm asked for 'a revised cashflow for next week', I know my salary figure from CrewStart™, I know what we have on Production Cards and then I can just go into DPO, select a date range for say 30 days back to see what's likely to go out that week. It's all there." She continues "When cost reporting - once the PO's are created by the department in DPO - it is very fast for me to cost by Department or vendor. It is an especially great tool for a repeat TV series budget as the costs per season can be taken from DPO very easily and transferred to any budget system you are using. The initial set up of DPO is very important for all of the above to work effectively."
Using DPO is not just more efficient than paper purchase ordering, it is also far more environmentally friendly. BAFTA albert calculated that DPO saves 49 g of CO2 per PO, which can translate to between 50 kg on an independent film to half a tonne of emissions for a studio picture, with some very large productions saving nearly a tonne of CO2.
Find out more about Digital Purchase Order here.
Production Card
"I've always used Sargent-Disc's Production Card," says New. "You'll generally find it pretty hard to get hold of a regular credit card for a new production company that has no credit history. Sargent-Disc has the reputation and the established relationship with Barclaycard to provide the Production Card to new productions. The security, convenience and visibility of spend it provides, from both a physical and auditing perspective, are really important.
"The accounts team can see what people were spending, whatever card is being used. It means that wardrobe, say, can go to Selfridges and spend obscene amounts of money on designer clothes when you need three sizes at £3,000 each. There's no way you can do that with real cash. It provides oversight on your spend rather than needing to have £10,000 cash on you, which will then be replaced by a whole lot of paper receipts in your pocket."
Developed in association with Barclaycard, the Sargent-Disc Production Card can be used for all Sterling, Dollar and Euro-purchasing, offering security and peace of mind by removing the need for large amounts of cash on production.
Originally created for use on Paramount's 2013 action film World War Z, the concept behind the payment solution was supported by the late John Sargent, Joint Founder of Sargent-Disc, who said at the time; "Cash is an anathema with its associated problems of security and insurance. I was held at gunpoint in the middle of the night and forced to open a safe before being left tied up face down on the floor in the Bahamas, whilst working on the Bond movie The Spy Who Loved Me. Life would have been easier had cards been available at that time."
Long-standing synergy
A synergy between the ever-changing needs of production accountants and the company's own software development has been central to Sargent-Disc's working practices since it launched the industry's first Payroll software in 1986. It is this responsivity that Fitzgerald and Millson-Crane agree make Sargent Disc the company they return to time and time again.
"I've always used Sargent Disc, since I first started," says Fitzgerald. "It's great – even when I worked on smaller shows which couldn't afford more expensive accounting packages, SD had software to match and it always did exactly what it said on the tin."
"I think it's the fact that Sargent-Disc as a company was built by industry people that has made it so successful," says Millson-Crane. "That ethos of problem-solving established by John and Marija Sargent lives on today with Lara and Laurence running the company. If there's something you need to achieve, they'll help you achieve it."
Find out more
Sargent Disc's Digital Production Office® suite of software and applications are designed to help film and TV production and accounts teams work more efficiently and securely wherever they are based, whilst also reducing the carbon footprint of productions. Applications include CrewStart™, Payroll, Payslip, Payscales, Digital Purchase Order, Production Card and PSL+. Find out more here.