Sponsored content
Find out more
Broadcast's 45-min roundtable discussion with ITV, Wonderhood Studios and Snowflake is now available to watch on-demand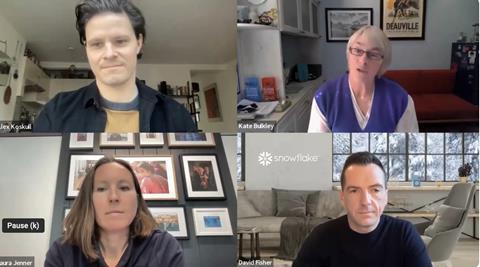 As the amount of data and the number of distribution platforms proliferates and monetisation takes centre stage, breaking down supply chain data silos is becoming increasingly key.
In this environment, creating a single source of 'truth' on valuable asset metadata is increasingly a 'must-have' for content owners.
In this roundtable discussion, three industry professionals talk about how to leverage metadata and the cloud to enhance supply chain connectivity and enable streamlined workflows and also create better content.
There are opportunities for creating unprecedented revenue opportunities and better engagement through innovative analytics, reporting, and data science approaches.
Snowflake Roundtable: The Power of Analytics to Optimise the Media Supply Chain
Discussing the changing landscape of broadcasting, distribution patterns and the significance of content metadata
Speakers:
David Fisher, Industry Principal of Media & Entertainment, Snowflake
Laura Jenner, Head of Product, Content Supply and Delivery, ITV
Alex Koskull, Senior Data Planner, Wonderhood Studios
Chair: Kate Bulkley, media commentator and journalist
Duration: 45 minutes

The Snowflake Media Data Cloud can be used to break down supply chain data silos and create a single source of truth on valuable asset metadata. Snowflake is transforming how broadcasters approach audiences and advertising, facilitating new approaches to analytics, reporting, data science, and predictions. Click here to learn more about how you can start connecting the media supply chain to help you fully exploit media assets and open new revenue opportunities.
You can also reach David Fisher, Industry Principal Media, Entertainment & Advertising at Snowflake on LinkedIn by clicking here.