TV's new golf competition; Tennis-playing robots; Future of sport on TV; Sunset+Vine on Eliud Kipchage's record-breaking marathon run
Happy birthday Broadcast Sport! It's 12 months this month (November) since Broadcast Sport was first revealed at our inaugural Tech Innovation Forum at BT Sport's flagship Studio 1. I took to the stage, armed only with a flyer showing mock-ups of the forthcoming Broadcast Sport magazine and website, to excitedly spill the beans about our new sports brand.
The Broadcast Sport website (broadcastnow.co.uk/ sport) went live the next day, followed a few months later by Broadcast Sport magazine.
To mark our first birthday, we're returning to BT Sport's Studio 1 for our second Tech Innovation Forum (Thursday 14 November).
For those who managed to secure a ticket, we have a six-page preview of the event on p44-49, including a full programme of the day's speaker sessions.
Also in issue four of Broadcast Sport, we go behind the scenes at GolfTV's Japan Skins tournament in Tokyo (p40-43); head over to Hamburg for the ESL One Dota 2 esports tournament (p18-22); and reveal the extensive preparation that went into the live broadcast of Eliud Kipchoge's victorious Ineos 1:59 challenge in Vienna.
Back in the UK, we catch up with celebrated street trials rider Danny MacAskill (p6-8) to talk about how, a decade ago, he found fame overnight on YouTube, and how he managed to use this as a springboard to kick-start a hugely successful career.
We hope you enjoy it all.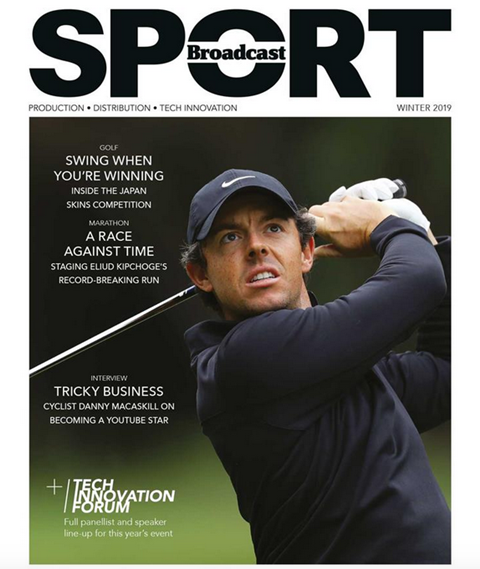 Click on the cover above to read the digital version of Broadcast Sport magazine issue #4.