57% will be watching the Lionesses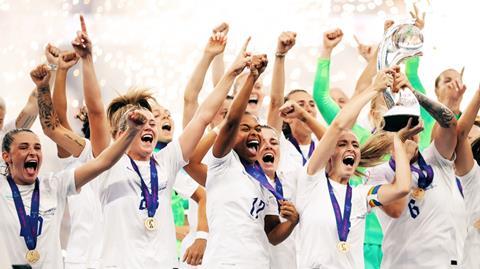 A survey of 1,000 UK football fans has found that 72% of them will be watching the Women's World Cup when it begins later this month.
Commissioned by media and tech for visitor experiences company Imagineear, the survey took place in May 2023 and aimed to be representative of UK football fans across gender, age group, region, league, team affiliation, and level of engagement – and included a mix of football supporters who identified as being "massive", "quite big" or "casual" fans.
It also found that 57% of supporters will be watching the Lionesses, who will be aiming to repeat the success of Euro 2021 in Australia and New Zealand. The drop off comes from non-English fans, with 58% of Welsh supporters following the Lionesses and just 35% from Scotland and Northern Ireland.
Fans also said that they would be more likely to watch the World Cup if they knew more about England's team (61%) and the team's history (51%). Already, 62% of football fans say they watch the England Women's football team "at least sometimes", including 30% who "always" or "often" watch the Lionesses. The younger the fan, the more likely they are to watch the team, with 69% of those aged 18-34 saying they do at least sometimes compared to 55% of football supporters aged 55+.
Andrew Nugee, Chief Executive Officer of Imagineear, said: "These findings demonstrate clearly that football fans are excited by the FIFA Women's World Cup and that there is a huge well of support among all UK fans for the England team. It also shows that the more fans are able to learn about the Lionesses and the heritage of the women's game, the more engaged they are with the team – making them more likely to watch them play."
He added: "There is a number of ways that the England Women's Team can build fan engagement by sharing more about the current team and where it has come from. That can involve finding ways to enhance the fan visitor experience through stadium tours that highlight the journey taken by women's teams both at the club and national team level, and by creating compelling online experiences that tell the women's football story via virtual technologies."
Fans in the UK will be able to watch the Women's World Cup on the BBC and ITV following a late rights deal agreed by the pair with FIFA through the EBU. Earlier this year, FIFA president Gianni Infantino had been threatening a broadcast blackout of the tournament in Europe due to the low value of bids from the region.