The new additions mean that Formula 1 will have 18 AWS-powered stats available by the end of the season
Amazon Web Services (AWS) and Formula 1 have announced the addition of six new F1 Insights for the upcoming season.
The real-time racing statistics, which display as on-screen graphics, will become available throughout the campaign. The first, Braking Performance, will debut at the Italian Grand Prix this weekend. It aims to show how drivers' braking styles through corners can gain them advantages, by measuring how close they are to the apex of the corner when they start braking.
It will also display their top speed on approach, speed decrease through braking, the braking power (KWH) utilized, and the G-forces drivers undergo.
AWS technologies, including machine learning, will be used to create the insights. More than 300 sensors on the cars supply over 1.1 million data points for AWS to analyse and then present to TV and online viewers.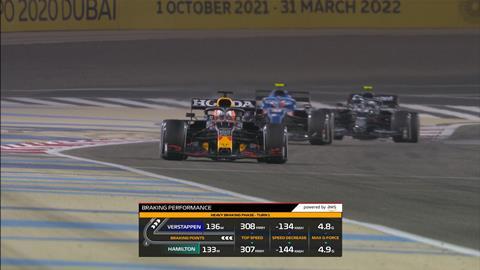 Historical race data stored in Amazon Simple Storage Service (Amazon S3) is combined with live data streamed from F1 race cars and trackside sensors to AWS through Amazon Kinesis, a service for real-time data collection, processing, and analysis. Machine learning models are leveraged with Amazon SageMaker, and then the data can be analysed in real-time by deploying those machine learning models on AWS Lambda.
F1 Insights to be introduced:
Car Exploitation: Reveals a car's current performance during a race compared to a theoretical performance limit, and then calculates the time gained or lost per lap as a result. The stat debuts June 11-13 at the FORMULA 1 HEINEKEN GRAND PRIX DU CANADA 2021.
Energy Usage: Demonstrates energy flows through each component of the advanced F1 engine, known as the Power Unit, and shows how much battery energy is left at any given moment in a race. The stat debuts July 16-18 at the FORMULA 1 PIRELLI BRITISH GRAND PRIX 2021.
Start Analysis: Displays which driver was the quickest on the pedal and picked the perfect line, as well as which drivers struggled off the starting grid and why. The stat debuts September 10-12 at the FORMULA 1 HEINEKEN GRAN PREMIO D'ITALIA 2021.
Pitlane Performance: Offers insights beyond a car's stationary stop time, like unpacking how the driver and team perform during each step of a pit stop in the pitlane and highlighting total pitlane time lost or gained due to how efficiently the team works. The stat debuts October 8-10 at the FORMULA 1 JAPANESE GRAND PRIX 2021.
Undercut Threat: Visualizes data on gaps between cars, average pit loss time, and tire performance to help identify which cars are at risk. The stat debuts November 19-21 at the FORMULA 1 ROLEX AUSTRALIAN GRAND PRIX 2021.
The insights will then be integrated into the races' international broadcast feeds around the globe, including F1's digital platform, F1TV.
F1 chief engineer, Rob Smedley, said: "With this new set of racing statistics for 2021, we are going deeper than ever before. New Insights like Braking Performance and Undercut Threat peel back additional layers of race strategies and performance and use advanced visualizations to make the sport of racing even more understandable and exciting. Race car technology improves all the time, and thanks to AWS, our fans can appreciate how that technology impacts race outcomes."
AWS EMEA SWARL director of business development, Darren Mowry, added: "Data has become a critical piece of the story for modern sports, and for F1—where literally each second on the track produces more than a million data points—they require a partner that can translate that raw data into meaning in real time. AWS enables F1 to analyze its troves of data at scale, make better and more informed decisions, and bring fans closer to every phase of action on the track, from the starting grid, to cornering, to pitting."