5 Live and BBC Sounds podcast will go behind-the-scenes of the final 90 days of the League One season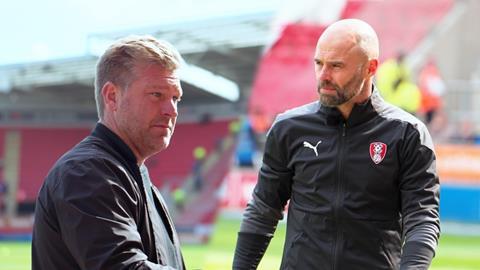 BBC 5 Live and BBC Sounds have revealed Moment Of Truth, a podcast going behind-the-scenes of the final 90 days of Oxford United and Rotherham United's 2021/22 seasons.
A nail-biting end to the season saw Rotherham promoted on the final day, while Oxford missed out on a place in the playoffs.
The BBC and Folding Pocket Productions were given 24/7 access to managers Paul Warne (Rotherham) and Karl Robinson (Oxford), taking in dressing rooms and training pitches, to managers' offices and even their own homes.
Actor James Nesbitt narrates the end result, with 15 episodes going in depth into both clubs. Warne and Robinson also share windows into their private lives, as well as giving an insight into the mind of a football manager.
Episodes 1-5 will be released on 27 June on BBC Sounds.
Robinson said: "The public have a perception of us as managers because of what we do within that box by the touchline. My life is entirely determined by that box. And that's great because I feel safe in there. But I hope that this series shows there's a lot more to doing our jobs - and us as people - than just that small box."
Warne added: "Doing the series was a little bit like perverted therapy, but for a time it was therapy that was making us worse! The pressure on football managers is brutal and hopefully people will get a sense of what our world is like."
Simon Clancy, writer & executive Producer at Folding Pocket, commented: "Most people think they know what happens inside a football club. Moment of Truth shows that they don't have a clue. Paul and Karl allowed us incredible access to highlight just how pressurised the beautiful game is."