There will be over 300 hours of live coverage on BBC1 and BBC2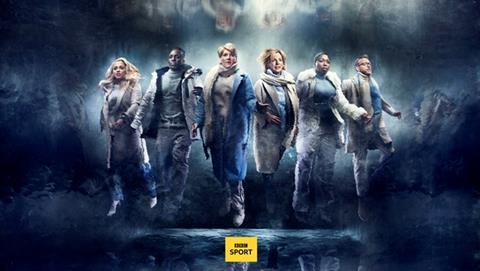 The BBC has revealed its broadcast plans for the Beijing 2022 Winter Olympics.
There will be over 300 hours of live coverage on BBC1 and BBC2 during the competition, which is being held 4-20 February. More content will be available through a second live stream available on BBC iPlayer, Red Button, and the BBC Sport website.
Hazel Irvine, Jeanette Kwakye, Ayo Akinwolere and JJ Chalmers will lead the coverage, with Clare Balding hosting a daily highlights show on BBC2 and Aimee Fuller presenting Extra, a daily one-hour extended highlights show on BBC3.
BBC Winter Olympics programme schedule
00:00 - 06:00: Ayo Akinwolere presents the overnight action on BBC1
06:00 - 09:00: Jeanette Kwakye presents live action on BBC2
09:15 - 12:00: Hazel Irvine leads coverage on BBC1
15:00: JJ Chalmers presents extended replays on BBC2
19:00: Clare Balding presents Today At The Games on BBC2
20:00 Aimee Fuller presents extended highlights on BBC3
Second live stream available on BBC iPlayer, Red Button and the BBC Sport, and live restart function available on BBC iPlayer
Analysis will be provided by a host of former Olympians and international winter athletes, including the most successful British Winter Olympian and most successful Olympic skeleton athlete of all time Lizzy Yarnold, Olympic short track speed skater and 10-time British Champion Sarah Lindsay, figure skating legends Jayne Torvill and Christopher Dean, Graham Bell and Chemmy Alcott.
The main coverage will come from BBC Sport's presentation studio at Media City UK, providing a 'ski lodge' setting for the production.
TV line-up per event
Alpine Skiing
Commentator: Matt Chilton
Experts: Graham Bell and Chemmy Alcott
Curling
Commentators: Steve Cram, Rhona Howie, Jackie Lockhart and Logan Gray
Figure Skating
Commentators: Katherine Downes and Robin Cousins
Experts: Jayne Torvill, Christopher Dean, David King
Biathlon/Cross-Country Skiing/Nordic Combined/Ski Jumping
Commentators: Rob Walker and Ollie Williams
Speed Skating
Commentators: Simon Brotherton and Wilf O'Reilly
Experts: Sarah Lindsay
Bobsleigh/Luge/Skeleton
Commentators: John Hunt and John Jackson
Experts: Lizzy Yarnold, Shelley Rudman, Nicola Minichiello
Snowboarding and Freestyle Skiing
Commentators: Ed Leigh and Tim Warwood
Experts: Aimee Fuller, Zoe Gillings, Ed Drake
Ice Hockey
Commentators: Seth Bennett, Kent Simpson
Commentary will be provided by more ex-Olympians and athletes, such as figure skating Olympic gold medallist Robin Cousins, ex-World Champion speed skater Wilf O'Reilly, Olympic bobsleigh medallist John Jackson and curling Olympic gold medallist Rhona Howie and World Champion Jackie Lockhart.
Jenny Jones, Matthew Pinsent and Sarah Mulkerrins will be reporting from Beijing.
Ahead of the tournament, documentary Free Spirits will launch on BBC iPlayer, which follows a group of Team GB freestyle skiers and snowboarders around the world as they prepare for the Olympics.