A series of short educational films joins full-length documentaries and entertainment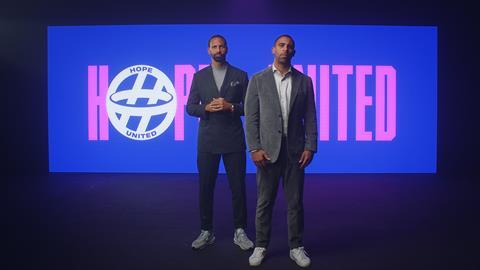 BT Sport has revealed its programming to mark black history month, with a series of short educational films joining full-length documentaries and entertainment.
The three educational films will launch from 12 October and include Rio and Anton Ferdinand discussing BT Sport documentary Standing Firm: Football's Windrush Story, which is now available on the BT Sport website and app for free.
It is joined by Eni Aluko sharing her passion for football's Black pioneers Emma Clarke and Laurie Cunningham, the first Black football player to represent England in a competitive international match. It will encourage viewers to visit Nubian Jak Community Trust – the only commemorative plaque and sculpture scheme focussed on commemorating contributions of Black and minority ethnic people in Britain.
The final episode will feature Marcus Rashford exploring the role literature plays in introducing young people to black British history in their early years of school. He will share recommendations and a carefully curated list of books for parents and carers to inspire and help children and young people discover more about black history and culture, which will be available on the Pan MacMillan website and feature the likes of Floella Benjamin, David Olusoga and Lenny Henry and illustrators such as Diane Ewen and Dapo Adeola.
This is joined by Life Stories, which will air on BT Sport 2, at 7.30pm on 10 October. The series of shorts culminates in an hour-long film examining the inspirations behind a number of successful Black athletes, including Eni Aluko, Rio & Anton Ferdinand, Trent Alexander Arnold, Ebony Rainford Brent and Nathan Ashmore.
In addition, Andrew Mensah will present Proud To Be Comedy Night on BT Sport 1 at 10pm on 17 October. It will commemorate black British pride in the worlds of sport and comedy and feature Nathan Caton and Marlon Davis plus interviews with sporting stars.
Pete Jeavons, director of marketing communications at BT, said: "This campaign is another step forward in our mission to connect for good. Through our ongoing work with the Hope United team, and by using our channels, we will continue driving a message of hope, offering the nation online resources to educate themselves on Black British history. We launched Hope United in a collective stand against social media hate; this campaign sees us continue tackling this issue with action, education and a commitment to facilitating change."
Rio Ferdinand added: "I joined Hope United because I want to help make a difference and beat online hate for good. I believe that education is the key to a more inclusive world and to help in the fight back against racism whether that is on social media or in real life. I hope that by sharing learning from the past and the importance of black history we will build a more inclusive society."
Will John, ECD at Saatchi & Saatchi commented: "At the core of Hope United is the idea that education can be a facilitator for change, that education can bring hope. Hope United has the reach and influence to use social media for good, so it was great to work with them to help educate the nation through bitesize lessons about black British history. It's an opportunity for people to continue their learning journey by providing some inspirational resources from across the web, all curated by BT."