The tournament will take place at St George's Park this weekend and be broadcast live from 12pm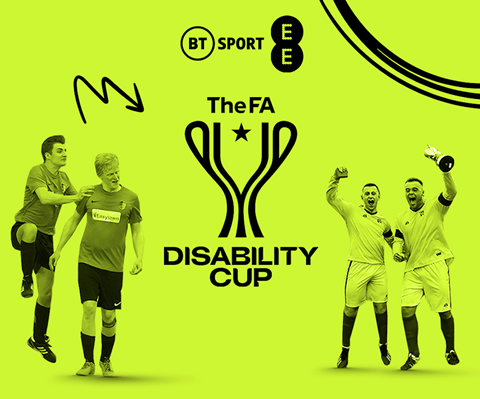 BT Sport will broadcast the FA Disability Cup live for the next three years after BT and EE reached an agreement with the FA.
Live broadcast of this year's FA Disability Cup, which takes place at St George's Park at the weekend (11-12 June), begins at 10am each day. It will be available to watch via the BT Sport App, Facebook and highlights on Channel 4 (at 12pm on 18 June).
BT Sport's coverage will be presented by Ade Adepitan, Hannah Cockcroft and BT Sport presenter Lynsey Hipgrave. The broadcaster says it will be the most accessible live broadcast of a UK football match.
The 2022 FA Disability Cup will see six cup finals scheduled across the weekend, delivered by The FA in partnership with a range of impairment-specific organisations.
Every match will be shown live on three BT Sport channels, with each providing different accessibility features.
Enhanced Audio Description delivered by an expert based at St George's Park will be available. BT Sport Extra 1 will carry British Sign Language, with subtitles available on BT Sport 1 & 3.
Baroness Sue Campbell, The FA director of women's football and the organisation's strategic co-lead for disability football, said: "This year's FA Disability Cup is back bigger and better than ever before and we are delighted that the action will once again be broadcast live on BT Sport as part of a new three-year commitment. We hope the exposure will give even more players the confidence to return or take the first step on their disability football journey and would encourage everyone to tune into the action for what promises to be a thrilling weekend of football."
Pete Jeavons, marketing communications director, BT & EE added: "As lead partner of The FA, EE is committed to boosting disability football in this country by offering more opportunities and greater exposure at every level of the game and we look forward to working with The FA as disability football continues to grow."
Jamie Hindhaugh, head of BT Sport, said: "Last year's FA Disability Cup was a great success with two days of highly competitive, fantastic football broadcast live on BT Sport and we're looking forward to more of the same this year."
The schedule
Saturday 11 June
PARTIALLY SIGHTED FINAL: Merseyside Futsal V Birmingham Futsal
AMPUTEE FINAL: Portsmouth Amputees v Manchester City Amputees
BLIND FINAL: RNC Hereford v Brighton
Sunday 12 June
CEREBAL PALSY FINAL: CP Northwest v North East & Yorkshire CP FC
POWERCHAIR FINAL: Northern Thunder v West Bromwich Albion
DEAF FINAL: St John's DFC v Farsley Celtic DFC