Lewis Hamilton and Max Verstappen go into the race on level points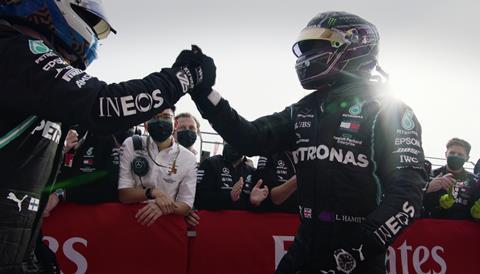 Channel 4 has held 'initial' talks with Sky Sports over the live rights to the final F1 Grand Prix of the season, according to The Times.
The title race between Lewis Hamilton and Max Verstappen has caught the imagination of fans after a number of incredible races and controversial incidents, and the pair go into the Abu Dhabi GP on equal points following Hamilton's victory in Saudi Arabia last week.
Sky Sports hold exclusive rights to the race in the UK, holding a five-year deal for F1 until 2024. Meanwhile, Channel 4 broadcasts the British Grand Prix live, and has highlights for the other races.
If a last-minute deal for the final Grand Prix were to be agreed, it would not be the first time something similar has been done by Channel 4. The free-to-air broadcaster made an agreement with Sky to show the Cricket World Cup Final in 2019, and did the same with Amazon Prime Video in September of this year to air Emma Raducanu's US Open final victory live.