The peak live viewing figure on C4 was 4.4m, with a total of 7.5m viewers across live and highlights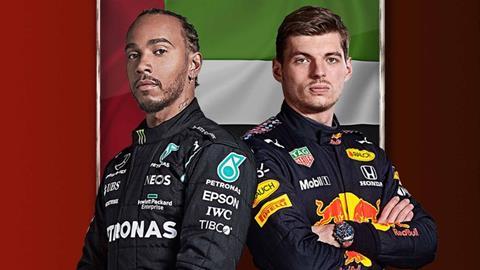 Channel 4's live broadcast of Sky Sports' coverage of the Abu Dhabi F1 grand prix yesterday reached 7.5m people in total, and had the highest F1 one-minute peak audience on Channel 4 for live F1.
The title showdown between Lewis Hamilton and Max Verstappen was won - during a controversial last lap - by Verstappen.
Channel 4 chief content officer Ian Katz, said: "Though many British F1 fans will be disappointed by the result, it's fantastic that Channel 4 was able to bring this nail-biting finale to the 2021 F1 Season to 4.4 million viewers free to air and, in partnership with Sky, to an incredible peak audience of 7.4m. Following on from the return of Test cricket to free to air television, a remarkable Paralympics and Emma Raducanu's triumph it was a fittingly dramatic end to an extraordinary year of sport on Channel 4."
Sky Sports agreed a deal with Channel 4 to enable it to air the grand prix live on free to air on Thursday (9 December).
Abu Dhabi F1 on Channel 4 - viewing figures
Channel 4 had a one-minute peak of 4.375m at 2.32pm
There was a combined peak of 7.391m at 2.32pm, so 59% of viewers were watching on C4 (vs Sky Sports Main Event, Sky Sports F1 & Sky Showcase)
Channel 4 average in the race slot of 3.4m / 30.7%
Channel 4's coverage reached 7.5m people yesterday (Live and highlights)