Joymo becomes the competition's exclusive live streaming provider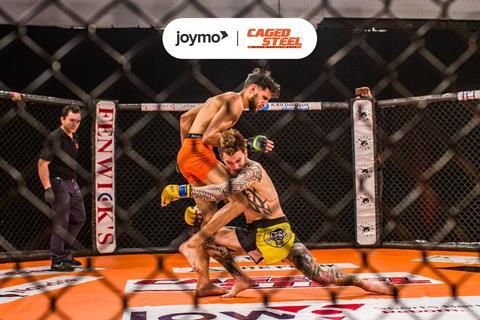 MMA competition Caged Steel is to hold its first live PPV event through OTT streaming platform Joymo.
Joymo also becomes the promoter's exclusive live streaming provider on a 'multi-year' deal.
Caged Steel 28, being held on 19 March, will feature 14 bouts with professional and amateur MMA athletes from around the UK and Europe battling for Caged Steel Championship belts or to increase their UK MMA rank.
It will be available from £14.99 on the Caged Steel website, powered by Joymo's D2C streaming platform, in a similar set up to that which Joymo used with the British Weight Lifting Championships in January of this year.
Caged Steel owner Dominic Gibbs said: "Caged Steel has built a reputation based on the high-quality production and fights offered to its fan base, striving to give a fantastic online and in-person experience. We have a highly engaged fanbase and Joymo enables us to deliver more content and more value to our loyal supporters.
"Additionally, live streaming our events provides more flexibility for fans who can't attend in person but can now watch anytime, anywhere on a range of connected devices. Crucially, as we look to scale Caged Steel and offer bigger and better events, Joymo's built-in micropayments facility allows us to monetise our content and realise our promotion's full value across online audiences."
Mike Emery, Joymo CEO, added: "This is an exciting partnership for Joymo and one that sees us add another sport to our growing broadcast portfolio, which now extends to in excess of 25 across more than 20 markets.
"The growth in popularity in MMA in recent years has been meteoric and Caged Steel has built a fantastic event promotion. We are thrilled to be supporting them with the platform and technology to broadcast directly to their fans, enabling them to unlock and realise the full value of their events and engage a broader audience who can now access anytime and anywhere thanks to Joymo."