Competition sees global sports stars face each other in Ryder Cup style event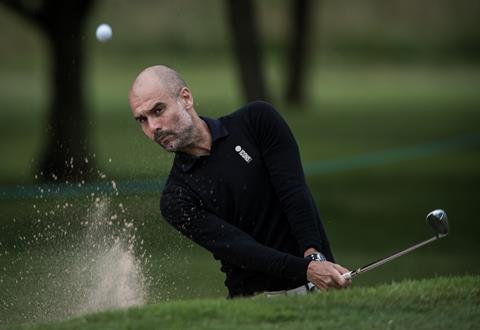 Collective Media Group will produce live coverage of new golf competition the Icons Series.
The Icons Series sees two teams of global sport stars face off in a Ryder Cup-style event pitting the USA against the Rest Of The World at Liberty National Golf Club, New Jersey on Thursday 30th June and Friday 1st July.
Collective Media Sport will be partnering on production with video production company toldright.
The Team Rest of the World is led by four-time major champion Ernie Els, alongside former World No. 1, three-time Grand Slam winner Ash Barty; boxing pound-for-pound champion Canelo Alvarez; Manchester City manager, Pep Guardiola; England and Tottenham's Harry Kane; Australian cricket legend Ricky Ponting; World Rugby Hall of Famer, George Gregan; Indian Cricket World Cup winner Yuvraj Singh; one of the greatest cricketers of all time, AB de Villiers; and three-time Premier League winner and current Liverpool footballer, James Milner.
The Team USA roster is led by World Golf Hall of Famer and captain Fred Couples, and features the most decorated Olympian of all-time, Michael Phelps; Pro Football Hall of Famer and Super Bowl champion Michael Strahan; two-time Super Bowl champion Ben Roethlisberger; two-time NBA champion J.R. Smith; MLB World Series champion John Smoltz; NFL Hall of Famer and 3x NFL Offensive Player of the Year Marshall Fauk; Ivan 'Pudge' Rodriguez, who won the MLB World Series with the Florida Marlins; veteran NFL placekicker Robbie Gould; and Super Bowl champions Reggie Bush (2010) and Andrew Whitworth (2022).
The event aims to engage a younger, more diverse global audience with a new format, broadcast outputs, and prizes for the winning team and the best performing player.
Executive producer Matt Wilkinson said: "This new format pits two teams of the greatest athletes on the planet against each other over two days of intense competition, in the same format that makes the Ryder Cup so enthralling. All of the Icons who are competing, whilst known for excellence in other sports, are also brilliant golfers; each one of them is a single-figure handicap golfer. With the competition's exhilarating format and the global star appeal of those competing, we are confident that the Icons Series will be a huge hit with audiences around the world."
Max Heinemen, CEO of toldright, added: "Toldright is thrilled to partner with Collective Media Group and Icons to bring this unique live event to sports fans around the world. Our Neighborhood of creators, now over two thousand 5-star creators, includes experts in live sports production who have delivered the Olympics, World Cup, Wimbledon, French Open and Super Bowl to audiences around the world."
Tom Brookes, Icons Series CEO, commented: "The Icons Series golfers are some of the world's best athletes, all incredible golfers and fierce competitors. There's no better global stage than Liberty National and that stage is now set to welcome the most iconic athletes of all time for what will be an incredible spectacle."
Collective Media Group was founded in 2021, and launched a sport division in February 2022. Among its projects is fellow golf competition The Legends Tour, and an upcoming documentary on the Brazil side at the 2002 World Cup - which will air on Sky Sports in the UK.