The streamer will kick off with coverage of the first eSkootr Championship race at Printworks London this weekend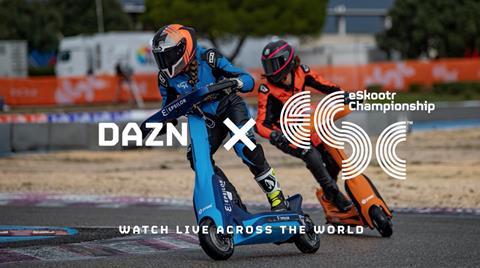 DAZN will show the eSkootr Championship (eSC) in more than 200 countries worldwide.
Riders from 11 different countries, including the UK, France, Spain, Austria and America compete in the very first eSkootr Championship race from Printworks London this weekend. The race will be shown live on DAZN, which will also show a 90-minute highlight show.
Following the season opener, DAZN will also broadcast all the action from the five other races taking place in 2022.
eSC says DAZN will make the tournament available to millions around the world, helping it with its mission to create an accessible racing series everyone can enjoy.
Sharon Fuller, Chief Content Officer at eSC, said: "eSC is a global championship with races around the world and riders coming from four different continents, so it is important for us to ensure we are visible in multiple territories. DAZN, as one of the world's biggest sport broadcasters, will make all of our 2022 events available in close to 270 countries, helping us reach and engage with a truly global fanbase."
Tom Burrows, DAZN EVP of Rights, added: "Bringing the eSkootr Championship to our platform on a global scale underlines our commitment to making a broad range of sport more accessible to an ever-increasing number of fans. This is set to be an exhilarating racing season and we can't wait to get it started."
The championship's first round takes place at Printworks London this weekend. Riders will race the specially designed S1-X electric scooter, which has been developed by YCOM, is powered by a Williams Advanced Engineering battery, and can reach speeds of over 100 km/h, on specially designed inner-city circuits.