Back On Track aims to emulate F1's successful Drive To Survive series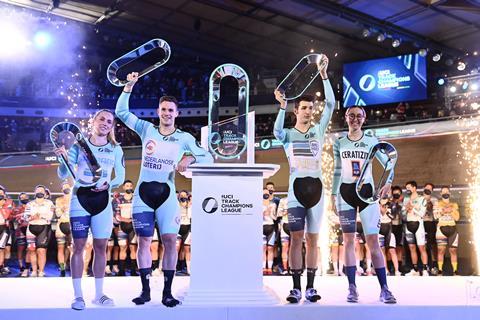 Discovery is to release a 'Drive To Survive-style' docuseries going behind the scenes of the UCI Track Champions League.
The series, named Back On Track, is set to release on Eurosport, discovery+, and GCN ahead of the Beijing 2022 Winter Olympic Games at some time in February, as revealed by head Discovery Sports Events, Francois Ribeiro, at the season-ending double-header in London on Friday 3 December.
Ribeiro told reporters ahead of the first day's racing: "You have seen Drive To Survive from Formula One, and how well Netflix made it. It's the best marketing tool F1 has made over the last 50 years. We are doing exactly the same.
"So, in parallel to everything we are doing live, we have a separate TV crew working six weeks in a row following riders at events, between events, when they go back home, travelling. We left a crew in Mallorca because we understood half of the riders stayed in Mallorca for two weeks after the event, so we really got them from an angle that fans won't expect.
"We are going to surface stories between the riders that I could not believe."
He added: "It's not about what happens on track, it's about what happens off track. To tell the stories of the riders, their personalities, the rivalries between them, where they come from… some of the champions do not have a cycling background, some of them come from football or rugby, etc.
"It's just phenomenal. Back On Track is going to bring to life those stories."
Part of this will be showing footage from race days that isn't usually on screen, and Ribeiro said: "We are very busy in the infield, and we try to get the stories wherever we are. We have a lot of microphones in the infield to hear immediately all the talk between the riders.
"When all the live cameras are pointed at the track, our separate TV crew, which is doing the documentary, is aimed the other way to film the riders…and hopefully we can get good stories from them."
Drive To Survive has been seen as a major success for F1, helping it to bring a younger audience to the sport. A fourth season of the show was confirmed in August.