Sky Sports Racing and Racing TV will continue to broadcast the world's richest horse race in the UK.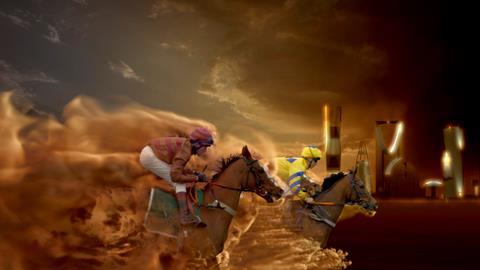 HBA Media has licensed the live production of the 20 February Saudi Cup to eight new broadcasters.
The addition of RAI (Italy), Sky Italia (Italy), Sport TV (Portugal), Setanta (Baltics), Movistar (Spain), NENT (Scandinavia), CYTA (Cyprus) and Fite (Global) means that the $20 million (£14.4m) is now accessible in every major continent and 140 countries worldwide.
In addition to the deals with broadcasters, an agreement with Twitter (MENA) means that the event will be streamed live to its users across the Middle East.
IMG Productions is responsible for the five-hour race coverage in partnership with HBA Media, who will be distributing broadcast packages that include expanded highlights and replay opportunities, a bespoke one-hour programme titled The Golden Hour, or a traditional full world feed service.
In the UK, Sky Sports Racing and Racing TV will provide coverage, with Virgin Media supplying a free-to-air broadcast in Ireland. Fox Sports 1 will show The Golden Hour in the US, with Fox Sports 2 and TVG showing the full undercard and ESPN Sportscenter airing highlights from the meet.
Where to watch the Saudi Cup
Europe: RAI (Italy), Sky Italia (Italy), Sport TV (Portugal), Setanta (Baltics), Movistar (Spain), NENT (Scandinavia), CYTA (Cyprus), Sky Sports Racing (UK), Racing TV (UK), Polsat (Poland), S Sport (Turkey), Match TV (Russia), Silknet (Georgia), Sport Klub (Slovenia, Bosnia, Croatia, Montenegro, North Macedonia and Herzegovina)
North America: Fox Sports (US), ESPN (US), TVG (US), TSN (Canada), SportsMax (Caribbean)
South America: ESPN (Spanish language), ESPN 2 (Brazil)
Africa: SuperSport (48 countries)
Asia: Shanghai TV, Wuhan TV, Beijing TV (China), The Green Channel (Japan), Eurosport India (India)
Saudi Cup strategic and international racing director Tom Ryan said: "We are pleased that so many people around the world will have the chance to follow the Saudi Cup on Saturday February 20th, thanks to HBA Media's distribution. This is an important event in Saudi Arabia's evolving society and continues to act as a launch pad to further development of our growing racing industry."
Henry Birtles, HBA Media chief executive, added: "It is a testament to the work of the Jockey Club of Saudi Arabia, by getting the event across the line in the face of all too familiar challenges brought about by the pandemic, that HBA Media has been able to deliver a tremendous global distribution for this year's Saudi Cup."