Red Bee Media will help to develop interactivity and personalization, further improvement of the user experience, and implementing an advertising model for Ekstraklasa.TV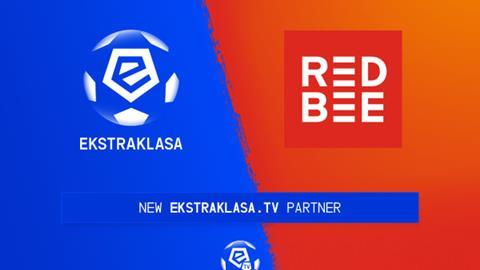 The Polish top division, the Ekstraklasa SA, has chosen Red Bee Media to be its technology partner for the Ekstraklasa.TV streaming platform.
Ekstraklasa.TV launched in summer 2019, and has since gained around 200,000 registered users. It allows fans in countries without an exclusive Ekstraklasa broadcasting deal to subscribe or purchase single-match PPV access to live games, as well as extra video content, such as highlights or interesting in-game events.
Fans in Poland have access to the non-live content for free.
Ekstraklasa.TV is aiming to evolve ahead of the 2021/22 season, with Red Bee expected to develop its interactivity and personalization, further improvement of the user experience, and implementing an advertising model.
These updates are intended to include the possibility of hosting additional sport content, that isn't only football related, in the future, as well as possible integration with cable networks.
It is hoped that the improvements will be available before the 2021/22 campaign, with the updated platform to be available through a website, iOS and Android apps, and multiple Smart TV platforms, starting with LG, Apple, Android and eventually Samsung.
Marcin Animucki, president of the management board at Ekstraklasa SA, said: "We're observing the growing market share of streaming platforms, a deepening of the multi-screen phenomenon, and a concurrent increase in popularity of short but exciting videos, especially among the youth.
"We are monitoring these changes and plan to take our OTT platform to the next level, providing the fans with Ekstraklasa.TV v.2.0 with new functionalities, and more brief, attractive, and information-rich video formats.
"The experience, especially from the last year, has shown that foreign fans are eager to watch our league, so this is yet another reason for us to continue developing and providing the viewers with ever-more interesting content, better tailored to their individual needs. Content that is both football related, covering Ekstraklasa and, in the future also matches of Fortuna 1 Liga or the competition within the Polish top level women's football league - Ekstraliga, as well as other games or sports.
"We've already been after initial talks with the other leagues and this will be our focus over the next dozen or so months."
Red Bee Media CEO, Steve Nylund, added: "We are happy to be a part of the evolution of Ekstraklasa.TV and we look forward to contributing to its development, streaming top quality European football to international and Polish audiences through our OTT platform.
"We can see a clear growth in direct-to-consumer propositions like this, where brands such as Ekstraklasa are making the most of the opportunity to connect with their fans, and monetize their content rights."