The stream was targetted at the younger, mobile-first generation of viewers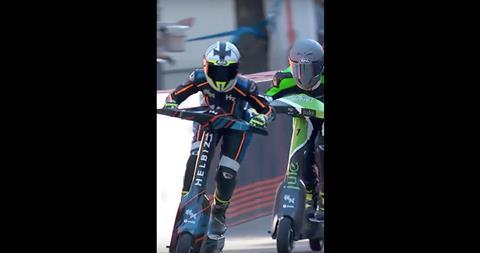 The eSkootr Championship (eSC) and NEP have revealed plans to stream the whole of the inaugural season of the tournament in 9:16 format so the racing action fills the entirety of a vertical screen.
The eSC successfully piloted the 9:16 live stream at the first round of the competition in London last month, centralising the action compared to traditional horizontal 16:9 viewing where the racing can move to the left or the right of the screen.
The output is created by production/tech partner NEP sending the original 16:9 video format to its remote broadcast facilities, where graphics are added before it is sent to eSC's streaming and digital partners to be broadcast.
Sharon Fuller, chief content officer at eSC, said: "eSC wants to be a leader in sports broadcasting, and we are constantly looking at new ways and advanced technologies to enhance the experience for fans. The inaugural eSC round in London was incredibly well-received. A high proportion of our viewing was mobile-first with the 9:16 format adding to the immersive nature of the racing for those fans watching on mobile or tablet devices.
"9:16 viewing was central to the content creation vision for eSC from the outset and it will only get better as we progress through the six rounds of our debut season."
Brian Clark, director of sales, NEP Major Events, added: "It has been incredible to partner and support eSC with a broadcast 9:16 stream to their audience, which will effectively bring this exciting content to life in an accessible format across multiple OTT, social media and mobile platforms. The benefit of a 9:16 stream is that it creates an immersive experience as it fills the entirety of a vertical screen. Adapting the broadcast experience to enable eSC to reach their fans across multiple devices meaning people can watch the action from anywhere has been one of the key elements to the success of the launch."