The race will be broadcast on the BBC, ITV, Sky Sports, and BT Sport this weekend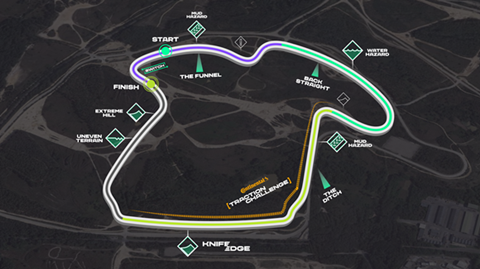 Extreme E has revealed the course for its final race of 2021, which is taking place at the British Ministry of Defence Base at Bovington in Dorset.
Following the cancellation of the Argentina and Brazil X Prixs earlier this year, due to the pandemic, the addition of the UK X Prix sees the total number of race weekends return to five. An X Prix was added and took place in October.
ITV, Sky Sports, BT Sport, and the BBC's digital channels will be broadcasting the race in the UK, with it taking place this weekend - 18-19 December.
Unlike other race weekends, this time round Extreme E will choose which drivers take part in each race, and has decided on alternating men's and women's races that mean the season will end with an all-female lineup in the Jurassic X Prix Final. These drivers will have to deal with a mixed surface of clay, sand, gravel, and mud that will make finding grip difficult.
Championship driver and course advisor Timo Scheider, who worked on the design of the track and tested it alongside fellow championship driver Tamara Molinaro, said: "This is the first time of the season that we've had super deep and muddy track conditions. Already right at the start we have very deep mud from left to right, so I think it'll be quite important to have a good starting spot. Extreme E has prepared the start line a bit, but sooner or later this will be destroyed, especially with the drivers doing three laps instead of two.
"The highlight will definitely be the knife edge, which is the big jump. It looks like a wall when you're going up there and the Odyssey just shoots through the sky. If you are too quick you will take a long time to land, so there you have to figure out that if you take a lower speed then you can land sooner and get the traction again."