The F1 in Schools World Final will be broadcast through a specially created channel on the platform.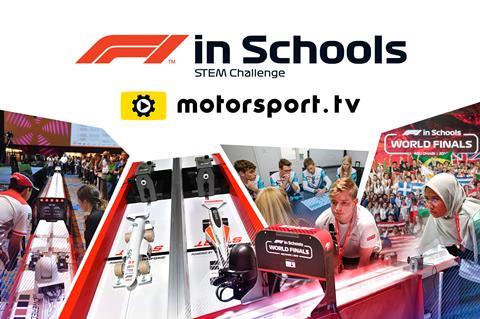 Motorsport.tv will broadcast the F1 in Schools World Final through a channel devoted to the programme.
F1 in Schools challenges students to design, manufacture, test, and raceminiature cars produced fromthe official F1 Model Block using CAD/CAMdesign tools. The cars are powered by compressed gas cartridges and attached to a track by a nylon wire, and race down a 20 metre track in just over one second.
The channel launches ahead of the World Finals, which are taking place 4-8 June, and will host streams from the event, educational videos about STEM education, and highlights from the latest national competitionsaround the world. It will distributed across all of the Motorsport Network's digital properties.
President of Motorsport.tv owner Motorsport Network, James Allen, has been a patron of the F1 in Schools project for over 20 years, and Motorsport.tv will be sponsoring the Digital Media Award at the World Finals whichrecognises excellence in social media and digital communications.
Andrew Denford, founder and chairman, F1 in Schools, said: "We are very excited to be launching this new partnership with Motorsport.tv and streaming our STEM challenge events across their platform. It's a great opportunity for us to engage with motorsport fans around the world and showcase our education initiatives that inspire students and instil in them a passion for the sport and high-performance engineering."
Simon Danker, CEO of Motorsport.tv, said: "F1 in Schools is an important project, helping to introduce future talent to career paths in our industry. To be able to promote the competition on Motorsport.tv and encourage more students to get involved in STEM education is something I am very proud we are doing. We look forward to expanding our partnership with F1 in Schools in the future and inspiring younger generations to keep this industry thriving."