The first in the video series features professional footballers Maz Pacheco and Yan Dhanda, with England manager Gareth Southgate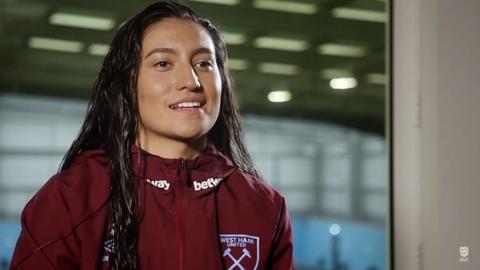 The FA is releasing a six-part video series featuring players, coaches, and match officials of Asian heritage to celebrate South Asian Heritage Month.
The opening episode features West Ham's Maz Pacheco and Swansea City's Yan Dhanda speaking with England men's manager Gareth Southgate, and can be seen below. Further entries will include Hamza Choudhury of Leicester City, Zidane Iqbal of Manchester United, Layla Banaras of Birmingham City, Azeem Amir of the Para Lions, Riteesh Mishra - who's assistant manager of Charlton Athletic Women, Sabrina Dale - UEFA B accredited coach, and former referee Jarnail Singh, alongside his sons Sunny and Bhups Gill, who are current match officials. Southgate features throughout.
Episodes will be shared across the England Football, FA, England, and Lionesses social media channels throughout South Asian Heritage Month, which ends on 17 August.
The series has been developed by Smoking Bear Productions in collaboration with award-winning British Asian filmmaker Rubika Shah, alongside producer Ed Gibbs.
It aims to inspire Asian communities to become more involved with the game on and off the pitch, building on the updated Asian inclusion strategy, Bringing Opportunities to Communities, that was released earlier this year.
In addition, it looks to ensure more people from Asian communities are part of English football both on and off the pitch, focusing on five pillars: The FA and its culture; pathways; grassroots football; women and girls; and community engagement.