Agency will sell worldwide broadcast media rights for pre-season tournament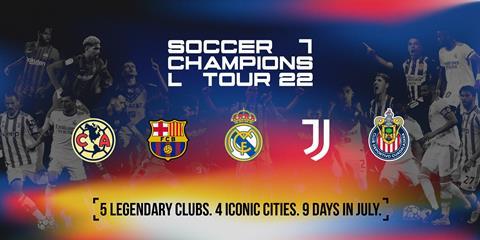 IMG has agreed a deal with sports and live entertainment company AEG to sell the worldwide broadcast media rights to the Soccer Champions Tour.
The pre-season tournament features La Liga's Real Madrid and Barcelona, Serie A's Juventus, and Liga MX's Club América and Chivas, All five sides will compete in a series of matches from 22-30 July across Las Vegas, Dallas, San Francisco, and Los Angeles.
It will be the first time playing in the US for Barcelona and Real Madrid since 2019 and for Juventus since 2018.
Tom Braun, AEG senior vice president of soccer & business operations and business development, said at the launch of the tournament: "AEG is excited to launch this unparalleled soccer tour as five of the most exceptional soccer clubs in the world return to the United States this summer.
Soccer Champions Tour Event Schedule
Friday, July 22
Juventus vs. Club Deportivo Guadalajara at Allegiant Stadium, Las Vegas
Saturday, July 23
Real Madrid CF vs. FC Barcelona at Allegiant Stadium, Las Vegas
Tuesday, July 26
Real Madrid CF vs. Club América at Oracle Park, San Francisco
FC Barcelona vs. Juventus at Cotton Bowl Stadium, Dallas
Saturday, July 30
Real Madrid CF vs. Juventus at Rose Bowl Stadium, Los Angeles
"Following several years without seeing some of these teams in the United States, we are thrilled to provide the opportunity for soccer fans in the US to once again watch their favorite European and Mexican clubs play in person."