Spanish broadcaster Gol will show Real Sociedad v Real Betis through the platform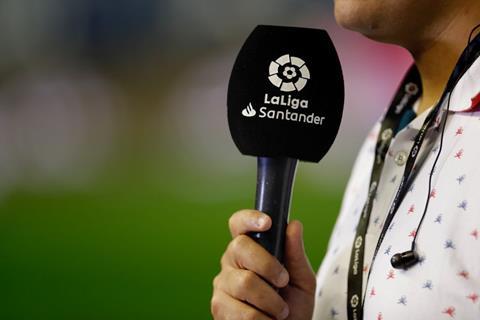 Spanish broadcaster Gol is to broadcast the LaLiga clash between Real Sociedad and Real Betis on Friday 15 April live through its TikTok account.
It will be shown in a vertical format, 9:6, and in 4K. Gol claims it will be the first LaLiga match to be aired this way, and the first major European league to offer a game in this format on TikTok. It is similar to Sky Sports' 9:16 broadcast of the German Super Cup between Borussia Dortmund and Bayern Munich in August, which was distributed through the Sky Sports app in the UK and Ireland.
Mediapro is handling production on the match, which will have a 4K OB unit and 30 people working from the Reale Arena in San Sebastian specifically on the TikTok broadcast. Commentary will be provided by popular TikTok football content creators Nacho Hernáez @nachohernaez and Carla Gabián @carlagabian.
The event will begin at 8.30pm CET on TikTok ahead of a 9pm CET kick off, and fans will have the chance to interact with the commentators and take part in the broadcast through the live chat.
In addition, to TikTok, the game will also be aired by Gol via free-to-air TV on DTT, and different pay-per-view operators (Movistar, Vodafone, Orange and Telecable) hosted by Jordi Domínguez and with commentary by Alberto Edjogo, as well as Endika Martínez pitch-side.
Ignacio Arrola, marketing director of Mediapro, said: "This initiative with TikTok and LaLiga reinforces Mediapro's commitment to the creation of content adapted to the new digital ecosystem, offering Spanish football fans innovative experiences and new ways of participating and interacting".
Alfredo Bermejo, director of digital strategy at LaLiga, added: "This is another step for LaLiga in the quest to build new audiences and bring football to viewers everywhere. This agreement with TikTok confirms the efforts of both LaLiga and Mediapro in recent seasons to continue creating value and innovating in match broadcasts."
Soraya Castellanos, head of content, community and associations of TikTok Spain, commented: "We are profoundly grateful that Mediapro and LaLiga have chosen TikTok to launch this pioneering initiative in Spain. TikTok is the place where football fans are and connect and we are proud to see how the sport's big-name brands are inspiring the community through innovation."
This arrangement has come about as the product of a deal between Mediapro, LaLiga and TikTok, in collaboration with Burger King, El Corte Inglés, Vivo and HBO Max.