Study in partnership with Nielsen also finds fans are becoming more fragmented across streaming, apps, and gaming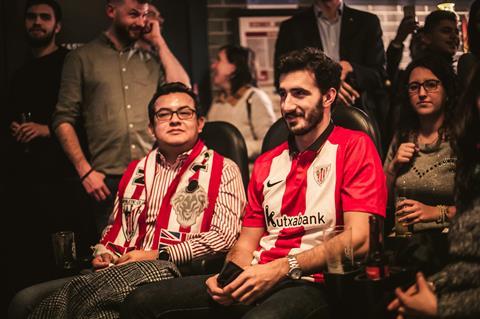 A study from LaLiga Tech and Nielsen has found that Millenials and Gen Z follow more sports than their Gen X and Boomer predecessors.
The report asked over 20,000 respondents from 15 countries, including those inNorth America (USA and Canada), South/Central America (Argentina, Brazil, Colombia, Mexico), Europe (9 countries, including Germany, Spain, Italy and the UK), together with countries in Africa and Asia Pacific.
It found that respondents aged 16-34 followed an average of 6.3 sports, while those aged 35-69 marginally less - 6.1. However, fans are becoming more fragmented across streaming, apps, and gaming platforms, with 46% of younger fans expressing a preference for watching sport on smartphones or tablets and being 15% more likely to seek out on-demand content.
They are also over 50% more likely to play games while watching a match and over 41% more likely to play fantasy games, as well as more interested in data - 51% want to consume statistics during play.
Overall, it appears that OTT has added further screens, rather than replacing TVs. 41% of fans are watching at least some sport through OTT, but 47% of those put TV on at the same time. Multi-screening has grown 5% globally in the past year, and 10% with Gen Z.
The biggest targets for growth seem to be emerging markets, with the countries to have the highest declared interest in sport coming in this area. Nigeria (74%), Indonesia (70%), Colombia (69%), Turkey (67%), India (67%) and UAE (65%) returned the highest percentage of respondents who see themselves as sports fans, while less than half of respondents in traditional sporting hotbeds such as the USA (46%), UK (44%) and France (43%) saw themselves this way.
Fabio Gallo, product lead at LaLiga Tech, said: "The future of sport depends on its fans so as those fans change their behaviours, it is essential that the industry responds. This report underlines trends that we have been monitoring for some time; digital audiences are being attracted to sport through gaming, streaming content or mobile apps, but their level of fandom has not changed, in fact it may even be increasing.
"Now is the time for sports organisations to prepare for the change by creating owned digital platforms that allow their content to be discovered by a new generation, using data analytics to create stronger fan links than we have ever seen before."
Ramón Amich, general director of Nielsen Sports Spain, added: "The changing behaviour of sports fans is one of the key findings of our study. We see that fans are already choosing to consume sports through digital platforms as an additional option to traditional formats. Fans are looking for immersive experiences and to this end we detect a clear preference for digital channels.
"Clubs, sports entities and federations face the challenge of improving communication and viewing experiences to retain fans. In this context, the analysis of the data generated by smart devices is an essential part of strengthening loyalty among sports fans, while allowing organisations to collect data, get to know their customers better and analyse their needs in greater detail."