Popular streamer Ibai Llanos will commentate and give match reaction to the clash between Real Sociedad and Athletic Bilbao.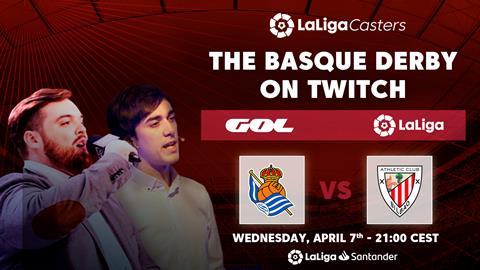 Real Sociedad and Athletic Bilbao's Basque derby clash will be live streamed on Twitch to Spanish viewers this week.
The official Twitch channels of LaLiga, GOL, and popular streamer Ibai Llanos will carry the match, which comes just a few days after the two teams faced each other in the Copa del Rey final on the Easter weekend - which Sociedad won 1-0 to lift the trophy.
Taking place at 8pm BST on Wednesday, Llanos will provide commentary alongside Ander Cortés as well as post-match reaction.
Viewers within the Spanish territory will be able to tune in half an hour before kick off for a full preview of the encounter, with Twitch's interactivity features in use by the broadcast. In particular, the chat function will allow fans to communicate with the streamers throughout.
In addition to Twitch, the game will be available on the usual linear channels. GOL will carry it free-to-air and digitally, plus national operators Movistar, Vodafone, Orange and Telecable.