The show features the Drive To Survive personality getting 'behind' the latest motorsport news.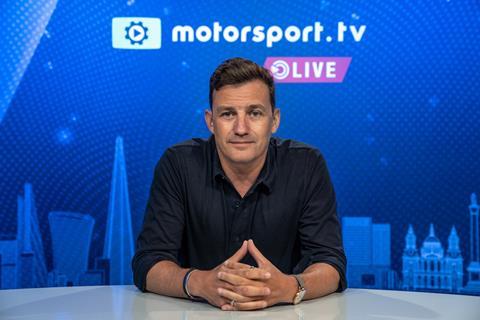 Motorsport.tv is launching an exclusive weekly show with F1 personality and Drive To Survive star Will Buxton, with the first episode airing today.
Building on the success of Buxton's YouTube channel and weekly news show, which has had nearly 250,000 watch hours and over two million views in its first six months, This Week With Will Buxton will feature studio guests and in-depth interviews to get 'behind' the latest news in the world of motorsport. Fans will also be encouraged to send their own footage to be used in the show.
The 20-part series will be available on the Motorsport.tv website, and Apple, Android, Fire TV, Roku and Chromecast devices through the Motorsport.tv app.
Buxton began as a journalist in 2001, before moving into broadcast as the official voice of then named GP2 (now F2). He then became the on-site live reporter for TV coverage of F1 in the U.S., first with Speed Channel and then for many years with NBC Sports, before moving on to work on F1's digital output and becoming one of the key personalities in Netflix's Drive To Survive F1 documentary series.
Jason Swales is executive producer of Motorsport.tv, and has worked with Buxton before at NBC Sports and the F1 Show.
Buxton said: "Growing up, Autosport was my bible. It was what made me want to become a journalist and over the years I've been tremendously proud to see my work and words appear there. [Motorsport Network president] James Allen and I go back many years, so when he called and asked if I'd be interested in doing something with himand Motorsport.tv and become part of the wider Motorsport Network family, it took me no time at all to say yes.
"To then be able to take a small concept I'd created on my own YouTube Channel over the locked-down winter months and develop it with James and the amazing team at Motorsport Network into a full-length television program, is the icing on the cake. I can't wait to bring "This Week" to Motorsport.tv."
CEO of Motorsport.tv, Simon Danker, added: "Will's passion and experience across motorsports, and the success of his YouTube show, make him the perfect person to partner with for Motorsport.tv's first major commission. "This Week with Will Buxton" will give fans an insider's view of the latest racing stories and exclusive interviews with the leading figures in motorsport. We're especially excited that fans will get to play an integral part in our new series."