The league is aiming for greater fan engagement on the platform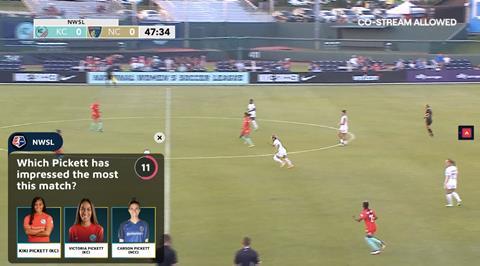 The National Women's Soccer League (NWSL) has agreed a multi-season partnership with fan engagement and gamification company Sport Buff.
Sport Buff will add its video overlay, which adds interactivity and gamification through predictions, polls, trivia, ratings, and more, to the NWSL's regular season broadcast games broadcast on Twitch during the 2021 and 2022 campaigns.
This will allow fans to play with and against their friends whilst watching the top level of women's football in the US.
Jonty Whitehead, president & founder of Sport Buff, said: "Working with one of the premium brands in all of sport while engaging with a world-wide audience makes this such an exciting new partnership for Sport Buff. It is now, more than ever, essential for rights holders to really consider how to engage with their fanbase - how to deliver an experience that is personal to them, that helps build a sense of community. NWSL are ahead of the game in this respect and we are delighted that they have chosen us to go on this journey with them.
NWSL director of digital operations Antonia Loffredo added: "We're excited to partner with Sport Buff to bring NWSL fans around the world an innovative way to engage with their favorite teams and players. Our fans are some of the most digitally engaged in all of global sports and providing this type of interactivity to our Twitch broadcasts offers those fans another way to come together, have some fun and show their support."
The 2021 NWSL season is underway, with Portland Thorns currently secure with a seven point lead at the top of the league. It is also the first season that the Challenge Cup has been officially incorporated into the campaign, after it was originally created to mark the league's return post-Covid shutdown.