The team will cover both the Euros and Copa América 2021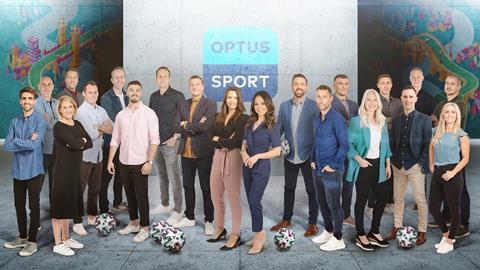 Australian sports broadcaster Optus Sport has unveiled its line-up of on-screen talent for its coverage of the UEFA EURO 2020 and Copa América 2021 tournaments.
Optus Sport will broadcast 79 international matches across 31 days, starting from this weekend, from its studios in Sydney and London. It will also provide pitch-side analysis across Europe.
Matchday hosting will be led by Richard Bayliss and Niav Owens. There will also be two daily shows – Euro 2020 Warm-Up, hosted by Claudio Fabiano at 9pm (AEST), and a morning highlights and discussion show called Euro Brekky Wrap at 7.30am (AEST) with Jules Breach, Mark Schwarzer and rotating guests, overlooking Westminster Abbey in London.
Expert analysis and insight will come from former players including Mark Schwarzer, John Aloisi, Craig Moore, Kevin Muscat, Luke Wilkshire, Scott McDonald and Mark Milligan, along Heather Garriock, Alicia Ferguson and Amy Chapman.
Thomas Sorensen, Michael Bridges, Emile Heskey, Wes Brown, Sue Smith and Karen Carney, Carl Robinson, Gaizka Mendieta, and Luis Boa Morte are also part of the Opta Sport team.
Optus Sport director of sport Richard Bayliss, said: "We've got a huge line-up of hosts, reporters and ex-players to provide real-time coverage and in-depth analysis across both EURO 2020 and Copa América 2021. We're always striving to be as representative of our audience as we can, which means having people from diverse backgrounds and from both the men's and women's games providing their views on the game.
"The beauty of events such as the Euros is that so many cultures combine to create an incredible experience, and with on-air team members that have backgrounds from Italian or Maltese, to German or Jamaican, we will proudly represent such diversity within our coverage."
Optus Sport head of TV and content Corin Dimopoulos, added: "We know 2.2 million Australians were born in the participating nations at EURO and Copa, and by taking into account first- and second-generation Australians, this rises to 11 million. In times of Covid, being able to emotionally connect with ethnic homelands through the excitement of major sporting events is something we feel customers will dearly appreciate."