There will also be a fan experience within Fortnite, which supporters can watch a live stream of on Twitch and Twitter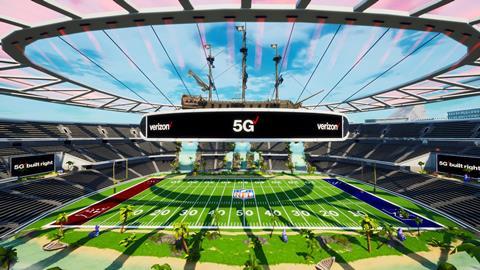 Verizon is providing a 5G-powered 'SuperStadium' for fans to view Superbowl LV within the NFL mobile app.
The SuperStadium will allow fans with an iPhone 12 and using the app to choose from seven camera angles while in the stadium (a limited crowd is attending the game), and five if at home - as well as project AR overlays of NFL's Next Gen stats for players.
Verizon has invested $80 million (£58.6m) in supplying permanent 5G capabilities to the Tampa area so that those at the Raymond James stadium will have this option.
In addition, the company has made its Verizon Media Watch Together option available in the Yahoo Sports mobile app. This free viewing option allows friends and family to watch the event together on their phones.
As well as these broadcast options for the event itself, Verizon has created the first ever 5G stadium in Fortnite Creative. Supporters will be able to tune in on Twitch and Twitter to see NFL players, including Tua Tagovailoa, Kyler Murray, Tarik Cohen, Saquon Barkley, Joey Bosa, Ryan Shazier and pro gamers Myth and KittyPlays compete in a variety of games created specifically for the arena. The two livestreams will be hosted by late night hosts, podcasters and authors Desus Nice and The Kid Mero.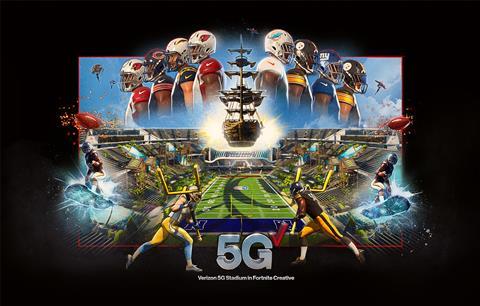 Diego Scotti, CMO at Verizon, said: "Reimagining live events is one of the best use cases for the power of 5G. During a year like this one, it is a thrill to transform the Super Bowl experience by creating a first-of-its-kind virtual stadium in Fortnite that brings a new level of gaming to life, while at the same time we're innovating the in-stadium experience."
Superbowl LV between the Tampa Bay Buccaneers and Kansas City Chiefs is taking place at the Raymond James Stadium in Tampa, Florida this Sunday. There will be a limited crowd in attendance.