Sir Bradley Wiggins and Alberto Contador will provide on-site coverage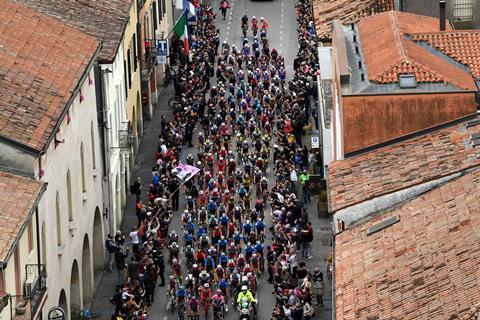 Warner Bros. Discovery has revealed its broadcast plans for the Giro d'Italia.
Every minute of coverage produced from all 21 stages available to stream live and uninterrupted on discovery+ and GCN+, with 110 live broadcast hours from every race shown through linear channel Eurosport in 50 markets. This will get underway with the opening stage in Hungary on 6 May.
Tour de France winners Sir Bradley Wiggins and Alberto Contador will be heavily involved in on-site coverage, joined by 12-time Giro stage winner Robbie McEwen; Jacky Durand and Steve Chainel (France); Bernie Eisel (Germany); Karsten Kroon and Bobbie Traksel (the Netherlands); Brian Holm (Denmark); Riccardo Magrini (Italy); Sean Kelly, Adam Blythe and Daniel Lloyd (UK).
There will be additional content for certain markets, including in the UK and Ireland (The Breakaway); Spain (La Montonera); France (Les Rois de la Pédale); Denmark (Radio Tour) and Germany (Velo Club), plus the Netherlands with an on-site post-race show (Kop Over Kop).
Key Stages of the 2022 Giro d'Italia:
Stage 1 (Flat) - Friday 6 May, Budapest - Visegrád, 195km
Stage 2 (ITT) - Saturday 7 May, Budapest - Budapest TISSOT ITT, 9.2km
Stage 4 (Mountain) - Tuesday 10 May, Avola - Etna-Nicolosi, 170km
Stage 7 (Hill) - Friday 13 May, Diamante - Potenza, 196km
Stage 11 (Flat) - Wednesday 18 May, Santarcangelo di Romagna - Reggio Emilia, 203km
Stage 16 (Mountain) - Tuesday 24 May, Salò - Aprica, 202km
Stage 20 (Mountain) - Saturday 28 May, Belluno - Marmolada, 167km
Stage 21 (ITT) - Sunday 29 May, Verona - Tissot ITT, 17.4km
Free content will be provided by new episodes of The Bradley Wiggins Show by Eurosport podcast, GCN's Racing News Show YouTube show and additional localised news, views and storytelling around the riders on Eurosport.com.
GCN+ subscribers will also have the World of Cycling show and exclusive documentaries such as the Legend series - which charts the careers of the sport's greatest riders. There is also Fully Charged: The rise of the e-bike; The Art of the Breakaway; Mountains (The Greatest) and Race Across Italy.
Scott Young, SVP content and production at Warner Bros. Discovery, said: "We have already been serving viewers with the best live racing alongside real life entertainment on discovery+ this year as well as bringing the widest range of cycling content to superfans via Eurosport and GCN+, so naturally we're excited to celebrate the start of the Grand Tours across our channels and platforms.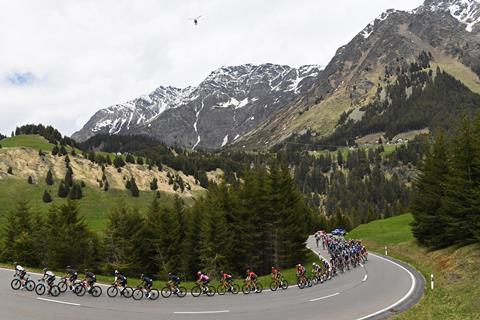 "We will be harnessing the full scale and reach of our network by bringing the live action to more than 200 markets globally with localised content and expertise including some of the biggest names in the sport underpinning our coverage. We have a proven track record of engaging the widest audience by taking this approach and look forward to telling the stories from the Giro to millions of viewers globally this year."
Contador added: "It's a pleasure to be with Eurosport for another year because it allows me to continue enjoying this sport as I like it best and seeing Eurosport's commitment to cycling makes me even more excited.
"This year's Giro is very demanding from day one - it's a very interesting route this year. I think that due to the difficulty of this year's race, we are going to see one of the best editions in recent years. The riders will have to give their best and push their limits to be able to keep up with the pace of this race, I can't wait for it to start."