Fast-paced boxing tournament format will be televised live by BT Sport, beginning on Friday 10 May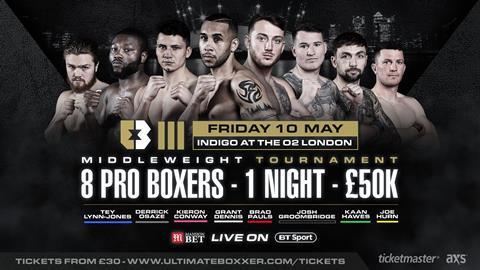 BT Sport has picked up the rights to televise new boxing format, Ultimate Boxxer. Its first Ultimate Boxxer event will be broadcast live on Friday 10 May from The Indigo at The O2. It will be simucast on BT Sport, BT Sport's YouTube channel and boxing channel BoxNation.
The high-paced elimination tournament format is built around bouts of 3 x 3-minute rounds. The format takes eight up-and-coming boxers from around the UK through four quarter-final bouts, two semi-finals and the final fight all on the same night.
The Ultimate Boxxer franchise has been designed to engage and attract the next generation of boxing fans through a fast-paced night of boxing.
At today's launch event at BT Tower, London, Ultimate Boxxer founder Ben Shalom said: "Having BT Sport, YouTube and BoxNation together brings a big audience to our event. We created the brand as we could see there were lots of British fighters without the opportunity to further their career and having BT Sport work with us will get as much oxygen to the format as possible. Ultimate Boxxer will help the British boxing scene and isn't competing with any other promoter."
For daily broadcast sports stories, covering sport production, distribution and tech innovation, visit Broadcast Sport and bookmark the Broadcast Sport homepage
Steve Norris, head of sports commercial rights, BT Sport, added: "Ultimate Boxxer will be on BT Sport for the foreseeable future. I really like the format, it's really exciting for TV having a whole tournament that's done in one night. And Ultimate Boxxer is complementary to what we already do in boxing, with our big pay-per-view events. Having Ultimate Boxxer on a Friday night is like showing a Rocky film each time, where a boxer can come from nowhere and become a star."
Ultimate Boxxer director and former pro boxer Paul 'Paulie' Malignaggi, who was also at the launch event, believes the format will "bring a young, hip crowd. It's a series of three-round fights that all the fighters are hungry to win. There will be a lot of explosiveness as the boxers have to get to work immediately. It will bring youthfulness and entertainment with the format."
Wrapping up the launch, boxing trainer Dave Caldwell, said: "It's for the next generation of fighters. You can go from an unknown to making your name overnight. Everyone has the same opportunity, it's like a short cut way to get to the top. I'd have loved to have done it, especially with all the razzmatazz that goes along with it. The Ultimate Boxxer franchise will pull in people who wouldn't normally watch boxing."
BT Sport's coverage begins with the middleweight division tournament live from The O2's The Indigo on Friday 10 May. The second of BT Sport's 2019 Ultimate Boxxer broadcasts will follow on Friday 28 June, live from Manchester.