E4's acclaimed drama is entering its fifth series with its third-generation cast, while a US remake is kicking up a fuss on MTV. Robin Parker hears how the team keep it fresh.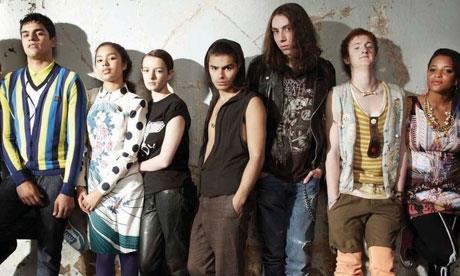 "It's like the drama X Factor," reflects new Skins producer Matt Strevens as he thinks back to the scenes that greeted him at the latest round of auditions. More than 8,000 wannabe stars of the teen drama turned up to heats in Bristol and London for just eight parts.
"When I started, I wondered if it was a publicity stunt or if we would find our cast," he recalls. "But we didn't turn anybody away. We weren't looking for actors to play specific characters, but thought 'let's see who looks interesting' and let them improvise. We didn't want to force a square peg into a round hole; people just shone out. They might not quite be the same character as on the page but we saw how to match them up."
Of the eight new faces for series five, five were plucked from these auditions. The remaining three have some experience and have their own agents, but only Dakota Blue Richards (pictured, right) – as with original Skins star Nicholas Hault – had a big screen hit under her belt, in her case The Golden Compass.
"I had that Simon Cowell moment when I rang them," Strevens says. "If people got to the final two or three, we tried to get them onto the show as a smaller character or an extra."
Skins has been here before, of course, jettisoning most of the original cast for series three in a bold bid to keep it fresh and focused on the sixth form. "The hate mail was extraordinary," recalls executive producer John Griffin. "I was in a Manchester Tesco at 1am with the script in my trolley and the checkout girl went hysterical, wanting to know who the cast were. Three weeks later, a lot of fans had stopped talking about the old cast."
The team enters series five a little more confident that the audience can cope with this upheaval. Overnight audiences have stayed well above the 1 million mark, and while the show has been partly usurped by the slightly less cool-for-school adventures of The Inbetweeners, myriad repeats and an active web presence have kept it front of mind among its fan base.
"We try to find a new audience every two years and these are the 15-17 year-olds," says Griffin. "We stay with our original demographic and we're not growing older than them."
Strevens says the tone this time is deliberately lighter than series four. "We wanted to concentrate on the fun of being that age, the camaraderie and the silliness, and in particular what happens when a new girl comes into a female friendship group. It will always have love, loss and betrayal, but we wanted to up the sense of high jinks and to have more all-gang moments."
Series five also marks the moment when the backdrop of Bristol stops standing in for Anytown UK to take centre stage. "We used to avoid mentioning it but it's become more of a character now," says Griffin. "I've lost count of how many colleges we've filmed in; they're becoming more community- based and it becomes harder to find time to film in them."
Strevens adds: "We always try to find bits of the city we haven't shot in before; this time we go to the sea by Portishead for the first time."
Strevens confesses to being nervewracked at bedding in the new stars. "You're taking kids who haven't even done much acting at school and sticking them on set to make two episodes in 20 days, as much as 70% of which is on location. That's not much time for them to find their feet. But I was blown away by just how well they took to it. Maybe it's the fearlessness of youth. Mostly, they understood that less is more. Sometimes there was a tendency to 'act', and on occasion I had to ask them to bring themselves towards the camera a bit more, but I thought it would be a lot tougher."
With each episode centred around one character, the actors delivering the first couple of episodes inevitably had the toughest job, but Strevens witnessed their growing confidence first hand.
"They all had a little go on camera before filming began. You learn a lot very quickly just by being on all the time. Whenever they have their own episodes it becomes a revelatory experience for them. It changes how they think about their character and they raise their game even higher. A lot of guest actors have told me they were blown away by the talent and focus of these kids."
With creator Bryan Elsley investing most of his energies into the US verison (see box, above), the baton has largely been passed to his son Jamie Brittain and script executive Neil Duncan to keep the innovative writers' room going. New talent includes Geoff Butterfield, who got his break on Channel 4's new-talent strand Coming Up, and Daniel Lovett, who won a competition while still a student.
"The executive producers dip out the moment people create new characters and stories," says Griffin. "We only tell them if something doesn't work for TV. It's about realising the ambition of the young people; what they want to talk about comes from them."
Elsley remains an executive producer on the original show "but at a distance", and expects to take even more of a backseat if it returns for series six.
"By then, the creative team will be led by kids in their early 20s, who will basically do what I've done until now," he says. "We've spent five years putting some of these people in place and it's very gratifying to see them emerging as talented professionals who won't be heavily supervised as they would be elsewhere in British TV."
BRYAN ELSLEY ON… SKINS US
Although Skins US has licence to be significantly edgier than the average US teen series, the show's co-creator Bryan Elsley had to steer a careful creative path to appease MTV. That meant no strong language (though bleeping is allowed) and no nipples.
Neither was any great loss, he says, but one quirk of US TV opened a new door of creativity. With no blanket licence agreements, music clearance can be a nightmare. "In the UK, we can just drop in a Michael Jackson song for £100; in the US you'd be looking at £100,000," he reflects.
A potential obstacle for many dramas allows the show to amplify one of its signature strengths: the soundtrack consists almost entirely of music from unsigned acts, small labels, competition winners and fans. As well as putting the show on the map, it reinforces MTV's legacy as a music champion but in a new context.
Elsley is showrunner on the US show after 18 months of negotiations with MTV. "There was interest from other networks, but we felt they were committed to the core values of the show and there were a couple of strong individuals bent upon doing it," Elsley says.
Skins' much-admired writers' room model is itself adapted from the US and he says it has easily found its equivalent in the remake. There are 30 youths in its 'teen advisory group' and Elsley has again recruited emerging writers from film school and the theatre to pen the scripts.
The model for the remake was, he says, The Office. "The first episode is very similar to the UK show but from the second, another character is introduced and it starts spinning away," he says. "The writers want to write original stuff and I just had to balance their creative needs with those of MTV."
The 10-part series – two more than in the UK – was shot in Toronto to a slightly tighter schedule, with episodes typically taking eight days to film rather than nine, and a quicker turnaround between each one. "Everything's a bit more expensive and time is money, so they push you along," Elsley says.
Controversy has dogged the series, thanks to sponsor withdrawals and pressure from conservative pressure group Parents Television Council, but ratings will determine whether it returns for series two. If it does, Elsley plans to refresh the cast just as he has in the UK. While he is encouraging his young writers to play fast and loose, as far as the production goes it's a case of if the model ain't broke, don't fix it.