As Channel 5's The Gadget Show celebrates 15 years on TV, Desiree Ibekwe meets the team behind the consumer technology series and finds out the secret to its enduring popularity
Inside an old spitfire factory 30 minutes outside of Birmingham, there are all the hallmarks of a birthday party. The Gadget Show set has been decorated with star-shaped balloons and bunting, while party poppers, candles and '3D-printed' cupcakes sit on a table. There is every reason to celebrate.
Channel 5 controllers and owners have come and gone over the past 15 years but the North One Television-produced consumer technology show has remained a stalwart of the broadcaster's schedules and aired its 400th episode on 15 November.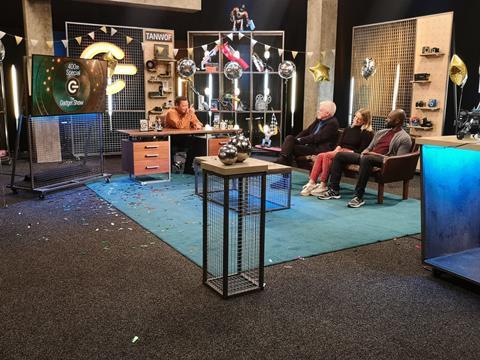 The programme's longevity is brought home during the filming of a segment in which presenters Ortis Deley and Craig Charles compare technology from 2004, when The Gadget Show began, to the newest iPhone. When Deley produces the Motorola Razor V3, the room is flooded with nostalgia.
"Longevity means you have to reinvent yourself," says executive producer Richard Pearson, who has worked on the show since the beginning.
The first reinvention came in the programme's third year with a shift from a magazine format to a studio-based one. "You look back on the earlier format and it's a bit dull," quips Ewan Keil, executive producer at North One Birmingham.
Golden period
Keil adds that when the programme was turned into a "gang show" – how the producers describe the multi-presenter studio format – in 2007, it was the beginning of a "golden period" during which they got the format right.
The initial line-up consisted of Jason Bradbury, Suzi Perry and Jon Bentley, and the latter still remains but, over the years, the presenting team has gone through several iterations. Countdown's Rachel Reilly even had a one-year stint.
In 2016, Bradbury left after 12 years and Craig Charles took up the mantle of lead presenter the following year – marking the show's second big format refresh.
Bradbury was well-versed in technology, even going so far as to build gadgets himself, while Charles occupies a different role: an everyman to whom other hosts explain the technology in laymen's terms. Before taking the job, Charles had even told Keil over drinks: "I love tech, but I don't know anything about it."
Keil says the new iteration had to feel different, with the ambition being to ensure viewers continued to enjoy spending time with the presenting team.
"I think we've created a warm, inviting feel – and a large part of that is working with very good presenters," adds Pearson.
"Other technology shows are much more news oriented, while our show looks at gadgets from an amusing, light-hearted consumer perspective"
Jon Bentley, presenter
When Broadcast sits down with current hosts Deley, Charles, Georgie Barrat and Bentley (who, in honour of the 400 episodes, dons the exact same Marks and Spencer's suit he wore in the first episode), the chemistry is evident as they gently josh each other, periodically burst into laughter and allow the conversation to meander.
Each posits a theory for the series' longevity. "Other technology shows are much more news oriented, while our show looks at gadgets from an amusing, light-hearted, consumer perspective," says former Top Gear producer Bentley.
Evolving landscape
Deley cites the constantly evolving technological landscape as the centrifugal element, while Barrat, a Gadget Show fan since her youth, points to the programme's family appeal.
North One chief executive Neil Duncanson adds another, more functional element into the mix: Currys PC World sponsorship. "It is a perfect match," he says. "Being sponsor funded has helped us continue to exist," adds Pearson. "From the channel's point of view, it is one less hurdle in an environment where money is tight."
The sponsorship began in 2013 and though the companies have a close relationship, there are no editorial limitations – and no expectation that the presenters will push the retailer's products. "Between Currys and Channel 5, we're given a lot of freedom," says Pearson.
"You've got to find a way of testing and showing the function of the tech that isn't just someone sitting down pressing buttons"
Ewan Keil, North One Birmingham
According to Keil, a constant and fundamental challenge of production is the alchemy involved in turning "little black boxes and inanimate objects" into engaging television.
"It's not a gameshow where, once you've come up with a format, you're there. You've got to find a way of testing and showing the function of the tech that isn't just someone sitting down pressing buttons."
This credo has manifested itself in interesting ways: for example, to test the usability of the first iPhone, the presenters were tasked with bungee-jumping off a bridge and then texting someone to pull them back up.
However, the producers are at pains to make sure the tests are not random or overly indulgent. Each set piece needs to be able to answer the question, 'what's the point?'. "Nobody is allowed to move forward if they can't answer that," says Pearson.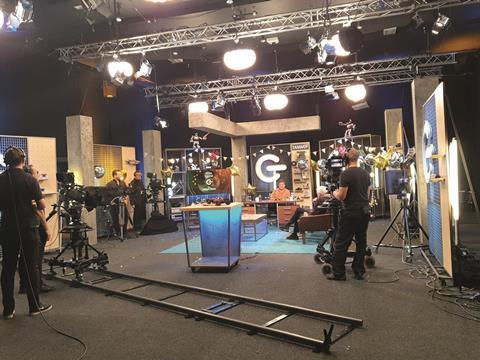 Besides filling C5's Friday 7pm slot 24 times a year, The Gadget Show has become an important part of Birmingham's television community and a training ground for talent in the area.
Series edit producer Karen O'Donovan began working at North One Birmingham as a secretary, series producer Tim Wagg started as a researcher and producer-director Jess Matthews joined on work experience.
"Birmingham is very important for us and we employ 60 to 70 people there at any time," says Duncanson. "Without long-running shows, it's very difficult to hang on to people without feeling like you are running a transit camp for other regions in the country."
His comments chime with those of FirstLook TV founder Will Hanrahan, who earlier this year argued a ringfenced 100 hours of content commissioned from the Midlands would transform the region.
To that end, North One is involved in Create Central, an initiative set up by mayor of the West Midlands Andy Street and the local creative players to invigorate the region's television, film and gaming industries.
The Gadget Show provides both evidence of the region's production talent and solid ratings – hovering around the 420,000/2% seven-day consolidated mark for the 30th series, which began on 4 October. Overnights.tv data shows it outperforms C5's 7pm Friday slot average among young audiences.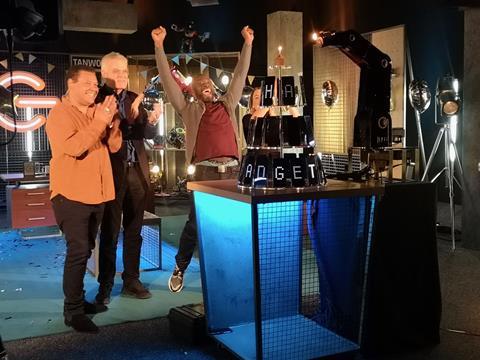 Internationally, North One stablemate All3Media International has sold the Gadget Show format to numerous territories, with a localised version in China and pilots produced in the US, Germany and Australia.
Duncanson recalls an incident on Shenzhen TV's Chinese version – when a presenter was towed through a lion enclosure in a wooden box fitted with a selection of cameras – that highlights a significant difference from the UK show. "We would never be allowed to do that here," he says.
Duncanson continues in reflective mood: "As chief executive of North One, I'm proud of all the programmes we make, but you don't get to 400 episodes of anything very often. The team in Birmingham has managed to maintain the success of a show in an industry that is very trend-led – it's still out there doing a good job and it makes me smile."