The channel is very much alive and turning out some of the best programming of its 14-year history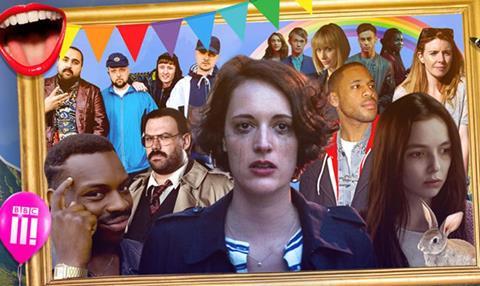 When it was announced that BBC Three would become an online-only proposition in February 2016, many people talked about it 'closing'.
The past year and a half has proved them wrong - the channel is very much alive and turning out some of the
best programming of its 14-year history.
Of course, judging viewing figures and channel performance is harder than for many of its traditional peers, but the iPlayer figures for BBC Three's flagship shows are impressive.
Drama Thirteen averaged more than 2 million requests, second only to Planet Earth II, and Clique surpassed 1 million requests in its first month.
There has also been significant growth across digital platforms, with the YouTube channel jumping from 45,000 subscribers to 220,000 and generating 20 million views in the 12 months after BBC Three moved online.
Beyond the numbers, BBC Three has had a clear creative renaissance. Fleabag is one of the most distinctive comedies of recent years, while the stunning drama Murdered By My Father won a Bafta for lead actor Adeel Akhtar.
Murder In Successville has also achieved the rare feat of retaining its Best Entertainment Programme title.
Throw in the spiky Things Not To Say To… online shorts and mid-form success in the shape of Unsolved and Drugs Map Of Britain and BBC Three did all that could have been expected of it - and more.
SHORTLISTED
Varied and intelligent, the Best Factual Channel winner took viewers Trainspotting Live, returned them to Television's Opening Night and continued to offer musical treats on Friday evenings.
Roots and Trapped were smart acquisitions, while Storyville films Notes On Blindness and Killing For Love were among a slew of exceptional documentaries.
CBBC has pulled together an outstanding slate of shows that blur genre boundaries and marry entertainment with genuine public service broadcasting.
My Life is among the best doc strands on TV and Best Digital Children's Content winner Secret Life Of Boys is arguably the most successful interactive drama. You can't argue with 403 million iPlayer requests for CBBC content in 2016.
Dave grew its audience for the fourth year in a row - and its easy to see why. Dara O Briain's Go 8 Bit, Unspun With Matt Forde and Zapped were added to an existing slate of high-quality originals.
Comedy entertainment juggernaut Taskmaster, one of the jewels in Dave's crown, was also nominated for Bafta, RTS and BPG Awards.
Winner of Best Entertainment Channel, it was another strong year for E4, which ordered more original programming in 2016 than ever before.
Celebs Go Dating was a barnstorming addition to a slate that already boasted Tattoo Fixers, while the exceptional Chewing Gum retains its title as Best Scripted Programme.
Camping and Alan Partridge: Scissored Isle gave Sky Atlantic's comedy slate a distinctly British feel, while Fortitude and The Tunnel: Sabotage returned to sit alongside Billions and The Night Of.
While Game Of Thrones stole the headlines, political doc Trumped wowed viewers.