Access to the Zaatari refugee camp in Jordan secured a fast-turnaround commission for Drummer TV for this My Life documentary, which sought to give young viewers an insight into Syrian children's lives.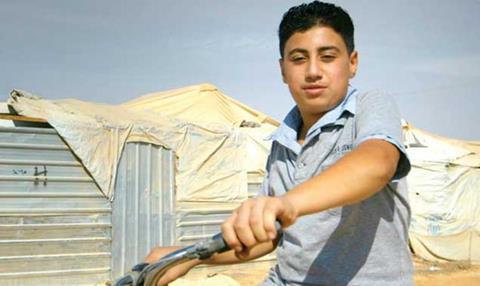 Drummer TV for CBBC
The indie had just three days to recce and cast the doc, aided by an Arabic-speaking fixer and a Unicef contact, and four days of eight-hour daylight shoots in which to capture both the hardship and the joy of the children's daily lives – and their resilience.
This short shoot was blighted by a desert sandstorm, torrential rain and flooding that damaged cameras, but the team struck gold with Ahmed (above), the charismatic,
English-speaking boy whose rounds of the camp on his bike formed the spine of the final film – and in sourcing a 13-year-old Syrian refugee living in Bristol to narrate it.
The result was an intimate, authentic portrait of the camp. "It was absolutely riveting, with so much information," said one judge, while another lauded the "outstanding, captivating, incredible kids".
But it was the strength and pacing of the storytelling that won out. "I've never seen this subject tackled in such a simple, direct way," said one judge.
This was a rare case of a piece of children's TV that would not look out of place in primetime. "It explains the realities of the Syrian crisis better than any grown-up show or news report," one judge declared. "Everyone should see it."
SHORTLISTED
BEAR GRYLLS SURVIVAL SCHOOL
Potato for CITV
The king of adventure TV sought to inspire the next generation of survivalists with this format, praised as "aspirational" and "full of heart" by our judges, who welcomed an original, talent-led, live-action format on CITV, as a complement to his primetime shows.
HETTY FEATHER
CBBC Production for CBBC
"Better than some traditional costume dramas for adults", was one judge's verdict on CBBC's adaptation of Jacqueline Wilson's stories of London's Foundling Hospital.
Beautifully made, the show pulled no punches, offering a refreshing moral ambiguity to its tales of Victorian life.
HORRIBLE HISTORIES: SENSATIONAL SHAKESPEARE
Lion TV for CBBC
CBBC's contribution to the year-long Shakespeare celebrations was "almost faultless", said one judge. The long-running sketch show pulled out all the stops for its
Bard special, with Tom Stourton a game lead and, as ever, countless facts slipped in under the gags and songs.
MY LIFE: MARVELLOUS MESSY MINDS
Nine Lives Media for CBBC
Judges praised the "understated normality" of this exploration of mental health, which helped to break down the stigma surrounding anxiety, ADHD and OCD by allowing three children to tell their own stories and offering young viewers and their families practical tips to help in their own lives.
OPERATION OUCH!
Maverick TV for CBBC
Twin brothers Chris and Xand van Tulleken might be all over primetime, but they haven't forgotten their young audiences. The latest series of this CBBC staple won plaudits from our judges for finding a way to present puberty responsibly to a pre-teen audience.